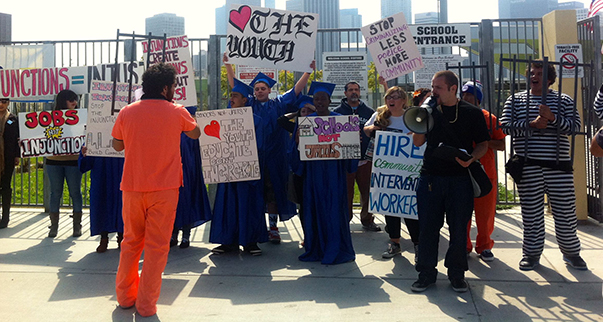 States of Incarceration
Youth Justice in the Inland Empire
California Museum of Photography
May 21, 2016
| | |
| --- | --- |
| Public Discussion (off-site) | Saturday, May 21, 2016, 3pm - 5pm |
Accompanying the exhibit States of Incarceration: A National Dialogue of Local Histories on view at the California Museum of Photography, "Youth Justice in the Inland Empire" is a community conversation held off-site at Riverside's historic Universalist Unitarian Church (3525 Mission Inn Avenue, Riverside, CA 92501). This convening of organizers, scholars, educators, and community members doing work in Los Angeles and the Inland Empire explores the challenges of criminalization facing youth today—especially those who are marginalized due to poverty, racial and educational inequities, or disability—and seeks to build sustainable transformative justice alternatives for the Inland Empire and beyond. How can we resist the school-to-prison paradigm and dismantle the juvenile injustice system? What steps can we take to contribute to grassroots action and movement building towards youth justice? This will be a participatory convening where attendees will be able to share and build strategies to support grassroots efforts for youth justice in the Inland Empire. 
The discussion will be moderated by Dylan Rodríguez, Professor and Chair of Ethnic Studies at UCR, and includes: Dr. E.M. Abdulmumin, Founder/CEO, DuBois Institute; Dr. Miroslava Chávez-García, Professor of Chicana/o Studies at UC Santa Barbara; Kim McGill, Organizer, Youth Justice Coalition; Vonya Quarles, Organizer, All of Us or None, Riverside; Rocio Ruiz-Chen, San Bernardino and Ontario Community Organizer, Inland Congregations United for Change; Terrance Stewart, Riverside Community Organizer, Inland Congregations United for Change.
Following the discussion, join participants in a free public reception at the California Museum of Photography, 6-9pm.
"Youth Justice in the IE" is organized by David Chávez, PhD student in History at UCR with the States of Incarceration program committee: Catherine Gudis, Associate Professor of History and Director, Public History Program, at UCR, and students Mayela Caro, Sabrina Fajardo, Marissa Friedman, Kristen Hayashi, Sarah Junod, Lelian Maldonado, Steven Moreno-Terrill, Sonia Mehrmand, Estefani Munive, Christina Pappous, Clare Pope, Nicolette Rohr, and Megan Suster.
Support for this program is provided by the National Endowment for the Humanities; Open Society Foundations; the department of History at UCR; and the Public History Program at UCR.
Image: Youth Justice Coalition rally outside Roybal Learning Center, Los Angeles, 2013. Photo by Lucy Guanuna.