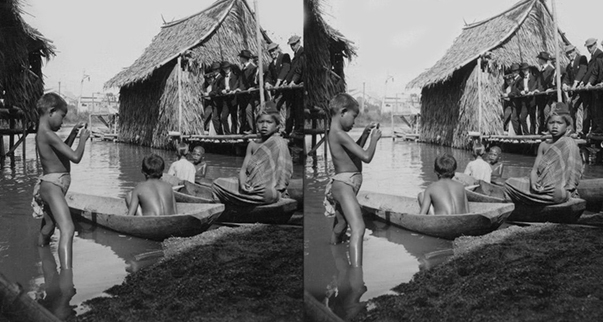 Public Print Viewing
1904 World's Fair, The Philippines Exhibition
Culver Center of the Arts
May 6, 2018
| | |
| --- | --- |
| Public Print Viewing | Sunday, May 6, 2018, 1pm - 3pm |
Print viewing is free to the public during the First Sunday in May
Stop by the Culver Center of the Arts between 1-3 PM on Sunday, May 6 for a public print viewing featuring images from the Keystone-Mast Collection of the 1904 World's Fair. Selections for this print viewing will focus on gender, race and imperialism depicted in the controversial "living exhibits," in the Philippine Village. The Keystone-Mast Collection is a virtually encyclopedic visual document of the world between the late-nineteenth and mid-twentieth centuries, as photographed stereoscopically (three-dimensionally). Gluck fellow, Angela Lessing will be present to discuss the historical images as captured in stereograph format.

The print viewing will be situated in the Culver Center atrium. No reservations necessary. Museum guests can drop by anytime between 1-3pm during the First Sunday in May to view the prints.

Public Print viewing of 1904 World's Fair: The Philippine Exhibition is supported by the Gluck Fellows Program of the Arts at UC Riverside. The Gluck Fellows Program is made possible by the generosity of the Max H. Gluck Foundation. This event is organized by Angela Lessing, UC Riverside Gluck Fellow in Art History.

(Image and Caption): "Young Visayan citizens and canoes on Shore of Arrow Head Lake. Philippine Village. St. Louis World's Fair," 1904. Keystone-Mast Collection, UCR/California Museum of Photography [1996.0009.KU6612]