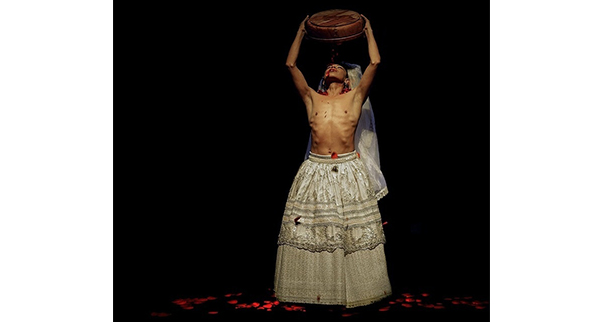 UCR Dance: Indigenous Choreographers at Riverside Gathering
UCR ARTS
May 30, 2019
| | |
| --- | --- |
| Performance | Thursday, May 30, 2019, 6pm - 9pm |
UCR Department of Dance and UCR ARTS present


Indigenous Choreographers at Riverside Gathering

Hosted and co-directed by Jacqueline Shea Murphy and María Regina Firmino-Castillo

Magnolia Yang Sao Yia, Assistant Coordinator
 

The Indigenous Choreographers at Riverside (ICR) project is an annual event that brings Indigenous dance artists, Indigenous studies scholars, and dance studies scholars to campus to connect, discuss, and share work. We look at ways Indigenous dance, in diverse forms and locations, engages Indigenous knowledges, and the import of these articulations.
This year's ICR gathering features workshops, roundtables, and public presentations throughout late May (complete schedule forthcoming). The culminating event is on Thursday, May 30, 6:00 to 9:00 pm, developed in relation with the EXPLODE! Queer Dance Festival and featuring Indigenous dance artists and knowledge holders whose works engage sexual and gender diversity from a multiplicity of perspectives. 
Participants include: Shashyázhí Charley, Lukas Avendaño, Fabiola Torralba, Javier Stahl Frésquez, dåkot-ta alcantara-camacho, Cuauhtemoc Peranda, among other artists to be confirmed soon.  
Stay tuned for updates by visiting: icr.ucr.edu
Free and open to the university community and public

 
Lukas Avendaño

"I was not born in a maternity ward. My mother gave birth to me without help of anyone. It happened on the Mexican Isthmus of Tehuantepec, the land where I grew up surrounded by other barefoot and "sodomitic" (as Spanish chronicles described us) Natives. And from this land I nourished myself to do what I call 'Installation for the Human Body.' Some call it a happening, others call it a sketch, and still others, a provocation. Perhaps the latter is closest, for my intention is to cut against homophobia with a courageous transvestism that flirts with dance and exhibitionism as it climaxes into the word. I do this from sensuality and life, from consciousness and the body, using the Native and the modern word to disturb orthodoxies of every stripe and to show how sensitivity cuts deeper than the presumed hardness of the hard.
 

I am well aware of the existence of borders created by politics, societies, cultures, and prejudices. This is why my corporeal installations propose borders as places of encounter, not separation; from this liminal state I stand at the vortex, with my two feet placed on both sides of being 'man/woman,' inhabiting reality/utopia, correct/incorrect. Perhaps this is the dichotomy that I like the most, the in/correct; here I feel free, full, true and alive. Because of this, it pleases me that my native culture not be so orthodox in the exercise of life; that is why those who visit Tehuantepec describe it as a society of matriarchs, the quasi-paradise for homosexuals, a totemic, and even 'primitive', place."
http://requiemparaunalcaravan.blogspot.mx
 

INFORMATION: (951) 827-3245  performingarts@ucr.edu  www.dance.ucr.edu
Photo credit: Lukas Avendaño in Réquiem por un Alcaraván, courtesy of the artist