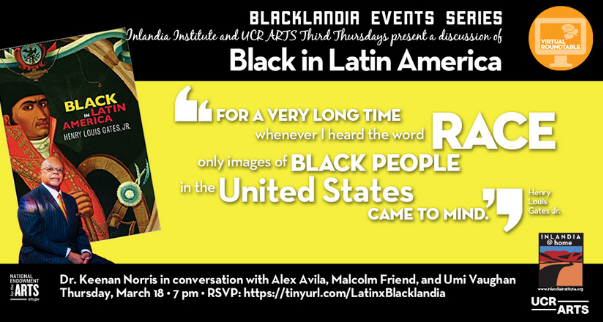 Blacklandia & Third Thursday Talks: Black in Latin America
UCR ARTS
March 18, 2021
| | |
| --- | --- |
| Blacklandia & Third Thursday Talks: Black in Latin America | Thursday, March 18, 2021, 7:00pm - 8:30pm |
Live Virtual Event
Inlandia Institute's Blacklandia Events Series and UCR ARTS' Third Thursday Talks present a virtual roundtable "Black in Latin America" based on the groundbreaking book by Henry Louis Gates, Jr.
Keenan Norris will lead the discussion with writers Alex Avila, Malcolm Friend, and Umi Vaughan.
Keenan Norris is a novelist, essayist and short story writer. He holds an M.F.A. from Mills College and a Ph.D. from the University of California, Riverside. Keenan was a 2017 Marin Headlands Artist-in-Residence and has garnered a Public Voices fellowship (2020), a Callaloo fellowship (2016) and two Yerba Buena Center for the Arts fellowships (2017, 2015). He serves as a guest editor for the Oxford African-American Studies Center.
He is the editor of the seminal Street Lit: Representing the Urban Landscape. Keenan's short work has appeared in numerous forums, including the Los Angeles Review of Books, Los Angeles Times, Alta, popmatters.com, BOOM: A Journal of California and several anthologies of California literature.
Alex Avila, a native New Yorker, hails from the Bronx, New York City. A Black Latino Honduran, he explores issues of identity and biculturalism in his works of prose and poetry. He is a Cal State University creative writing MFA graduate, with a specialty in multi-modal digital storytelling. Alex serves as an editor and writer of Ghost Town, the national literary magazine, and is an English professor at Cal State University, San Bernardino. He was accepted into the Iowa's Writer's Workshop, one of the top writing programs in the United States, where he studied advanced poetics.
In 2006, Mr. Avila attended the University of Iowa on a scholarship, in the department of social work. Alex is a member of The Honor Society of Phi Kappa Phi, and Sigma Tau Delta English Honor Society. Mr. Avila has worked with Rickerby Hinds, playwright and professor from the University of California, Riverside as a co-writer for Buckworld One, Uncovered: A Pageant of Hip Hop Masters, and Uncovered 2.
Malcolm Friend is a poet originally from the Rainier Beach neighborhood of Seattle, Washington. He received his BA from Vanderbilt University, where he was the 2014 recipient of the Merrill Moore Prize for Poetry, and his MFA from the University of Pittsburgh. He is the author of the chapbook mxd kd mixtape (Glass Poetry, 2017) and the full length collection Our Bruises Kept Singing Purple (Inlandia Books, 2018), selected by Cynthia Arrieu-King as winner of the 2017 Hillary Gravendyk Prize.
He has received awards and fellowships from organizations including CantoMundo, Backbone Press, the Center for African American Poetry & Poetics, The Frost Place, and the University of Memphis. His work has appeared or is forthcoming in publications including La Respuesta magazine, the Fjords Review's Black American Edition, Vinyl, Word Riot, The Acentos Review, Connotation Press: An Online Artifact, and Pretty Owl Poetry. He is a Poetry Editor for FreezeRay Poetry, and together with JR Mahung is a member of Black Plantains, an Afrocaribbean poetry collective. He currently lives and teaches in Pittsburgh
Umi Vaughan is a scholar/artist who conducts research, creates photographs and performances, and publishes work that examines the evolution and meaning of music/dance traditions across the African Diaspora. He holds a Ph.D. in Cultural Anthropology from the University of Michigan and is currently Associate Professor of Africana Studies at California State University Monterey Bay. Dr. Vaughan is the author of Carlos Aldama's Life in Batá: Cuba, Diaspora, and the Drum (Indiana University Press) and Rebel Dance, Renegade Stance: Timba Music and Black Identity in Cuba (University of Michigan Press).
This project is supported in part by an award from the National Endowment for the Arts. To find out more about how National Endowment for the Arts grants impact individuals and communities, visit www.arts.gov.

Third Thursday Talks are made possible with the generous support from the Marjorie and Glenn Thomas Memorial Fund.