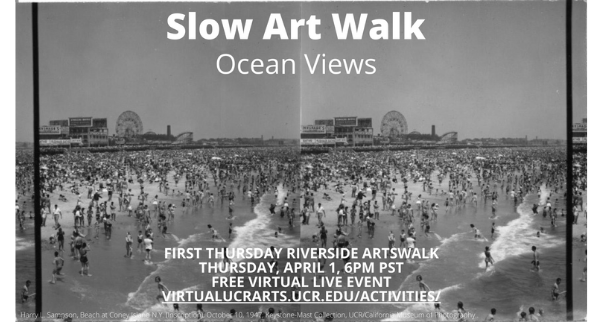 Slow Art Walk: Ocean Views
California Museum of Photography
April 1, 2021
| | |
| --- | --- |
| Slow Art Walk: Ocean Views | Thursday, April 1, 2021, 6pm - 7pm |
Live Virtual Event
Every First Thursday at 6pm for Riverside ArtsWalk, let UCR ARTS lead you on a virtual Slow Art Walk through artworks from the exhibitions and collections at California Museum of Photography and Culver Center of the Arts. What does that mean? Slow down, look closely at art, and talk about the experience with others.

Most of us could use some time on a beach right now.  As we think ahead to future vacations and lazy summer days, spend some time with UCR ARTS' Gluck Student Fellow, Cambra Sklarz, looking at historic photographs of sand, sun, and surf.  From crowded urban beaches to remote glacial waters and rugged, rocky coasts, we will spend time considering the unique views and compositions that ocean shores offer photographers. The guided group conversation will encourage attendees to slow down and look closely. Participation is encouraged!
RSVP: https://forms.gle/fsE7g6HuNHr3WuL17
Slow Art Walk is supported by the Gluck Fellows Program of the Arts at UC Riverside. The Gluck Fellows Program is made possible by the generosity of the Max H. Gluck Foundation.