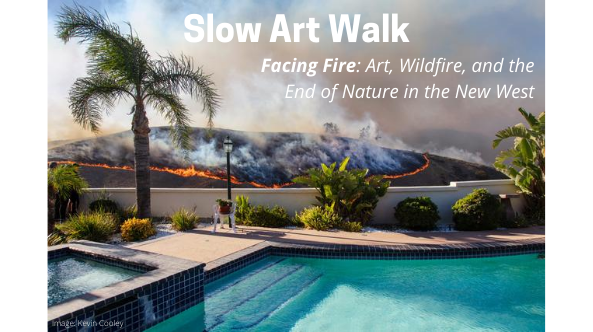 Slow Art Walk
Facing Fire: Art, Wildfire, And The End Of Nature In The New West
California Museum of Photography
September 3, 2020
| | |
| --- | --- |
| Slow Art Walk: Facing Fire | Thursday, September 3, 2020, 6pm - 7pm |
FREE Virtual Live Event
Every First Thursday at 6pm for Riverside ArtsWalk, let UCR ARTS lead you on a virtual Slow Art Walk through artworks from the exhibitions and collections at California Museum of Photography and Culver Center of the Arts. What does that mean? Slow down, look closely at art, and talk about the experience with others.
On September 3, join UCR ARTS and Gluck Student Fellow, Cambra Sklarz, in a guided discussion of works in the exhibition, Facing Fire: Art, Wildfire, and the End of Nature in the New West.  We have all seen images of the horrible destruction that wildfires have caused in California. Can this kind of devastation ever be a source of creativity?  Through close looking and an opportunity to share your thoughts, this dialogue is a chance to consider how artists have channeled disaster into compelling works of art.
Do you have your own fire photography you'd like to share with others during the event? Let us know on the form and we'll contact you to gather prior to the event!
Please consider a donation to UCR ARTS so we can continue to provide virtual programming! In addition to Virtual Slow Art Walk, we offer K-12 school programs, film screenings, kids and family activities, and much more.
And, when you do, thank you.
Slow Art Walk is supported by the Gluck Fellows Program of the Arts at UC Riverside. The Gluck Fellows Program is made possible by the generosity of the Max H. Gluck Foundation.