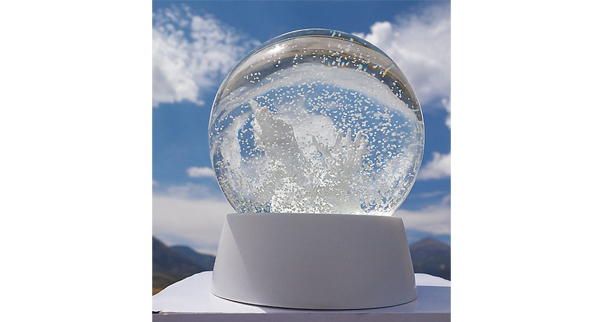 Prometheus Project Snow Globe
UCR ARTS
November 1, 2020 - January 31, 2021
Become the proud owner of a limited edition Prometheus Project Snow Globe by Jeff Weiss Collective, and help UCR ARTS continue to present exciting programs.
In this snow globe is a rendering of the Prometheus tree, a Great Basin Bristlecone Pine, that was found to be the oldest known living thing on earth when it was cut down over 50 years ago for scientific purposes.
In 2012, L.A.-based photographer and conceptual artist Jeff Weiss and others formed the Jeff Weiss Collective and began a series of projects to commemorate Prometheus, culminating in a remembrance ceremony at the Great Basin National Park on the 50th anniversary of the tree's death. One such project was the creation of 500 limited-edition snow globes containing a 3-D rendering of the aptly named bristlecone.
Recreated from memories of the few who had seen it while it stood, its sprawled and writhing branches recall depictions of the Greek Titan, who was punished for stealing fire for humanity by being chained to a mountain and having his liver eaten by an eagle each day. Prometheus later became a symbol for the quest and consequence of scientific knowledge — much like the tree itself.
Originally sold through The Mega-Collector's VIP Gallery, a vending machine turned art gallery, these unique snow globes are now available for a limited time online, just in time for the holidays.
Make a difference, give a special gift. Buy a Prometheus Project Snow Globe now.
Jeff Weiss Collective encourages collectors to send pictures of the snow globes in their homes to be published on
The Snow Globe Collectors webpage
. Email images to:
weisslink@earthlink.net
with name and location of collection. Learn more about this and other projects by Jeff Weiss at
weisslink.com
.
--
Price: $75
Limited quantity. All sales are final.