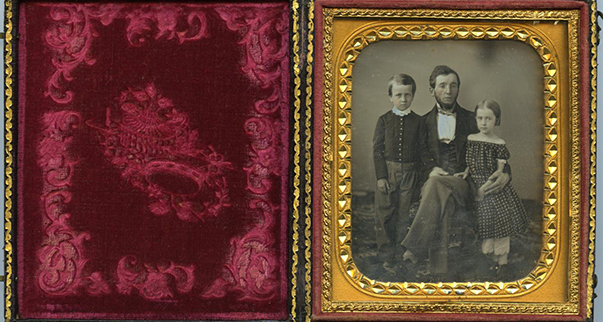 Pop-Up Info Session: Daguerreotypes
Family First Sundays
California Museum of Photography
March 3, 2019
| | |
| --- | --- |
| Pop-up Info Session: Daguerreotypes | Sunday, March 3, 2019, 1pm - 2pm |
Pop-up Info Session is a monthly session for casual conversations thematically based on objects featured in the exhibition Collected. This month's focus is on daguerreotypes.


A daguerreotype was an early form of photograph invented by Louis Daguerre in 1839. Before film or glass plate, a sheet of cooper with a mixture of chemicals was used to produce images. As faster and less expensive processes became available, the popularity of the daguerreotype began to diminish. While it lacked the use of a negative from which to produce lots of images, each picture captured in a daguerreotype was therefore unique.

The California Museum of Photography (CMP) has a selection of daguerreotypes from its collection on view in the exhibition Collected. Museum staff will be present during the Pop-up Info Session to facilitate conversations and answer questions.

Pop-up Info Session is supported by the Gluck Fellows Program of the Arts at UC Riverside. The Gluck Fellows Program is made possible by the generosity of the Max H. Gluck Foundation. Pop-up Info Session is lead by Angela Lessing, UC Riverside Gluck Fellow in Art History.

Ninth-plate daguerreotype in leather case with basket of flowers motif. Date not known. University Print Collection. [2009.004.0163]