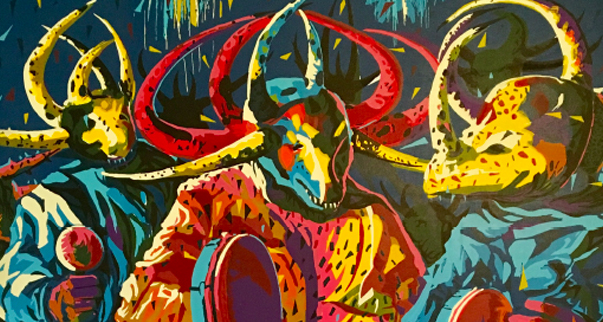 Inlandia Institute's Conversations at the Culver: Malcolm Friend's Our Bruises Kept Singing Purple
Reading by Award Winning Poets
Culver Center of the Arts
December 2, 2018
| | |
| --- | --- |
| Reading and Discussion | Sunday, December 2, 2018, 1:30pm - 3:00pm |
Inlandia welcomes Pittsburgh poet and winner of the 2017 Hillary Gravendyk Prize, Malcolm Friend, in a celebratory reading and launch of his prize-winning poetry collection, Our Bruises Kept Singing Purple. This event is free and open to the public.
On winning the Hillary Gravendyk Prize, Friend says: "[it] was an unreal moment. It's an amazing honor to win a prize honoring Hillary Gravendyk, that has done a great job bringing work by poets of color into the world, and to be selected by Cindy Arrieu-King. And I'm extremely happy to be with a press in Inlandia that has such a huge commitment to building community through poetry."
In the spirit of community-building, Friend will be reading alongside three other poets:
Sara Borjas and Micah Chatterton, both Hillary Gravendyk Prize finalists, and Rachelle Cruz, whose Hillary Gravendyk Prize-winning book, God's Will for Monsters, also won a 2018 American Book Award.
Reading will be followed by book sales and signing and light refreshments.
Sara Borjas is a Chicana, a pocha, and a Fresno poet. Her debut collection of poetry, Heart Like a Window, Mouth Like a Cliff is forthcoming from Noemi Press in 2019. She is a 2017 CantoMundo Fellow, a 2016 Postgraduate Writers Conference Fellow at Vermont College of Fine Arts, and a 2013 Community of Writers Workshop at Squaw Valley Fellow. She is the recipient of the 2014 Blue Mesa Poetry Prize and a three-time Pushcart Prize nominee. She teaches Creative Writing at UC Riverside and lives in Los Angeles but stays rooted in Fresno.
Micah Chatterton writes, edits, teaches and tends library at various locations in the Inland Empire, where he grew up. His work has appeared in a number of journals, including B O D Y, Sixfold, Ruminate, Tupelo Quarterly, LETTERS, and Slice. His work is also featured in Best New Poets 2013 (University of Virginia Press, 2013), The Cancer Poetry Project 2 (Thasora Books, 2013) and The Burden of Light: Poems on Illness and Loss (Fast Foreword, 2014).
Rachelle Cruz is from Hayward, California. She is the author of God's Will for Monsters, which won the 2016 Hillary Gravendyk Regional Poetry Prize (Inlandia, 2017), Self-Portrait as Rumor and Blood (Dancing Girl Press, 2012), and co-editor with Melissa Sipin of Kuwento: Lost Things, an anthology of Philippine Myths (Carayan Press, 2015). An Emerging Voices Fellow, a Kundiman Fellow and a VONA writer, she lives, writes and teaches in Southern California.
Malcolm Friend is a poet originally from the Rainier Beach neighborhood of Seattle, Washington. He received his BA from Vanderbilt University, and his MFA from the University of Pittsburgh. He is the author of the chapbook mxd kd mixtape (Glass Poetry, 2017) and the full-length collection Our Bruises Kept Singing Purple (Inlandia Books, 2018), winner of the 2017 Hillary Gravendyk Prize. He has received awards and fellowships from organizations including CantoMundo, VONA/Voices of Our Nations, the Center for African American Poetry & Poetics, Backbone Press, and the University of Memphis.
Praise for Heart Like a Window, Mouth Like a Cliff:
Part honest autobiography and part lyrical ode to the complex California landscape, this book is an entrancing invitation. These full-throated poems let the reader stand fully in the speaker's word where trauma, familial ties, and a bond to home converge to form a triumphant debut.
-- Ada Limón
Praise for Our Bruises Kept Singing Purple:
In Our Bruises Keep Singing Purple, Afro-Jamaican-Boricua poet, Malcolm Friend, has gifted us with a collection that is politically charged and culturally woke. Crafted in rhythmseasoned Latinx dialect, emerging from ancestral roots, replanted in the urban spectrum of hip-hop and rap, Friend's voice is heart-inspired, soul-empowered, new-wave griot, a fearless weapon forged from South End Seattle, Puerto Rico, and Pittsburgh. Friend creates personal and family stories that connect communal tragedies and national consciousness in expressions of rage, affirmation and self-determination, confronting the brutal realities of being Black and young while caught in the colonial grip of America.
--Sandra María Esteves
Praise for God's Will for Monsters:
"In many ways Rachelle Cruz, here, contests, demolishes and remixes the bizarre, early 20th Century colonial and classic ethnographic summations of the Philippines, of its peoples and culture, those "without history" – with her incredible, leaping, elegant, multi-form, cinematic, "forest" of word-magic."
-- Juan Felipe Herrera
Praise for Go To The Living:
"The world trembles on." Micah Chatterton writes toward the end of this amazing book of poems. But to move past seismic loss, to tremble along with the world, to cherish and understand life despite the specific immediacy of loss, takes exceptional craft and character. Go To The Living is such an achievement in art, in love—in the great skill and music of the voice, which, in its clarity, invention, and deep attention to life is redemptive for us all."
—Christopher Buckley
The Barbara and Art Culver Center of the Arts is located at 3834 Main St, Riverside, CA 92501.
The Inlandia Institute is a regionally-focused literary nonprofit and publishing house, home to Inlandia Books and the Hillary Gravendyk Prize for poetry. For more information, please visit www.inlandiaiainstitute.org