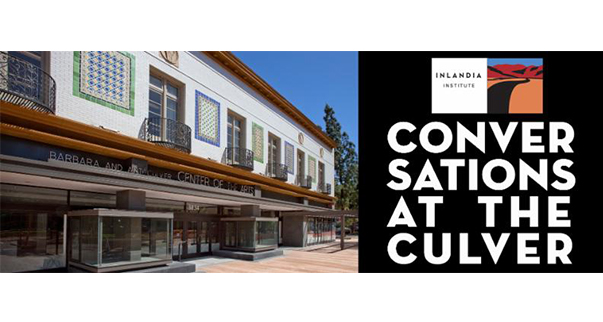 Inlandia Institute's Conversations at the Culver: Sex and Gambling: A Conversation with Norm Ellstrand and Roger Ransom
Culver Center of the Arts
March 3, 2019
| | |
| --- | --- |
| Discussion | Sunday, March 3, 2019, 1:30pm - 3:00pm |
Free Admission!
Sex and Gambling: A Conversation with Norm Ellstrand and Roger Ransom

Join Roger and Norm as they discuss their latest books and the processes in coming up with them. One a physical scientist, one a social scientist, both have a keen interest in one another's work and enjoy enlightening people with their complex and tantalizing subject matter. The event will be held Sunday, March 3, at 1:30 p.m., at the Barbara and Art Culver Center of the Arts downtown, located at 3824 Main Street, Riverside.

Norm Ellstrand's, Sex on the Kitchen Table, is an eye-opening medley of serious science, culinary delights, and humor. Ellstrand offers new insight into fornicating flowers, salacious squash, and what we owe to them. Sex and food are intimately intertwined, and this relationship is nowhere more evident than among the plants that sustain us.

Next to Ellstrand, Roger L. Ransom questions the First World War. Why did European leaders resort to war and why did they not end it sooner? Ransom's Gambling on War Confidence, Fear, and the Tragedy of the First World War sheds new light on this enduring puzzle by employing insights from prospect theory and notions of risk and uncertainty.

Norman C. Ellstrand is Professor of Genetics in the Department of Botany & Plant Sciences at the University of California, Riverside. At age 4 Norm's parents helped him match a picture of a Scarlet Tanager to a living bird in the yard, starting his lifelong passion in biology. Norm's honors include a Guggenheim Fellowship as well as the Botanical Society of America's 2008 Merit Award.

Roger L. Ransom is Distinguished Professor of History and Economics, Emeritus at the University of California, Riverside. He is best known for his work with Richard Sutch on the American Civil War. He was the president of the Economic History Association in 2005, and was awarded a Guggenheim Fellowship, and the distinguished teaching award from the University of California, Riverside.