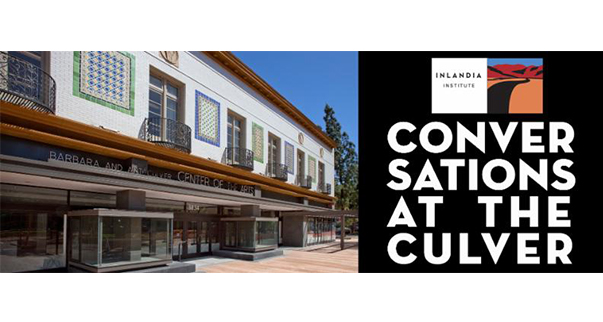 Inlandia Institute's Conversations at the Culver Presents Dancing in the Santa Ana Winds: Poems y Cuentos New and Selected with liz gonzalez
Reading and discussion with Frances Vasquez in conversation with liz gonzález
Culver Center of the Arts
October 7, 2018
| | |
| --- | --- |
| Reading and Discussion | Sunday, October 7, 2018, 1:30pm - 3:00pm |
Please join Inlandia to welcome back liz gonzález and help her celebrate the launch of her book, Dancing in the Santa Ana Winds: Poems y Cuentos New and Selected. Reading and discussion will feature Frances Vásquez in conversation with liz gonzález.
In Dancing in the Santa Ana Winds: Poems y Cuentos New and Selected liz gonzález explores memories, pivotal experiences, and cultural influences that shaped her: The death of a young father, family relationships that nurture and challenge, and the joys and struggles of growing up as a nontraditional Catholic Mexican American. Set against the diverse landscapes of the San Bernardino Valley and Los Angeles, these richly textured and sometimes humorous works, real and imagined, illuminate the trials and beauty of girls' and women's journeys to reclaim themselves.
Suzanne Lummis writes, "[o]verlaid with the rituals and imagery of the Catholic church and 70s rock, funk, and R&B bands pouring from car radios, the Inland Empire is alive with culture, sensation and the fullness of life."
liz gonzález's poetry, fiction, and creative nonfiction have appeared in the City of Los Angeles Latino Heritage Month Calendar and Cultural Guide, Inlandia: A Literary Journey, BorderSenses, and The San Francisco Chronicle. She is the author of the poetry collection Beneath Bone (Manifest Press 2000). Her awards include an Arts Council for Long Beach Professional Artist Fellowship, an Elizabeth George Foundation Artistic Grant, and residencies at the Kimmel Harding Nelson Center for the Arts, Lucas Artists Residency Program, and Hedgebrook. liz grew up in the San Bernardino Valley and currently lives in Long Beach. She directs Uptown Word & Arts, promoting literature and the arts, and is an instructor for the UCLA Extension Writers Program. Lizgonzalez.com
Frances J. Vásquez facilitates Tesoros de Cuentos writing workshops in Casa Blanca and is a contributor to the Inlandia Literary Journeys column in The Press-Enterprise and The Sun. She is past president of the Inlandia Institute and is a member of the Multicultural Council of the Riverside Museum Associates. An aficionada of the arts and letters, she loves attending organizing cultural events.
Reading will be followed by light refreshments and book sales and signing. This event is free and open to the public.