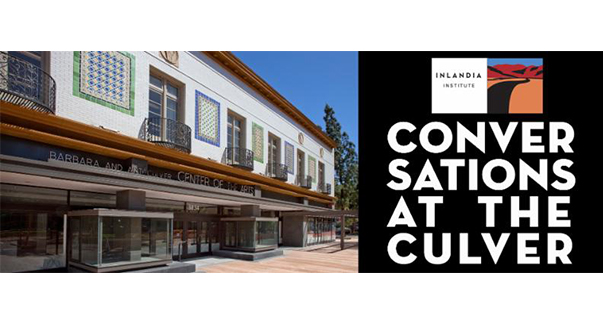 Inlandia Institute's Conversations at the Culver Presents Bicycles and Box Trucks: How Place and Space Affect Race in the Inland Empire
Culver Center of the Arts
October 6, 2019
| | |
| --- | --- |
| Reading and Discussion | Sunday, October 6, 2019, 1:30pm - 3:00pm |
Join us for Bicycles and Box Trucks: How Place and Space Affect Race in the Inland Empire with Genevieve Carpio and Juan De Lara.

What can two scholars on race and place tell us about how local regulations have impacted racial identity, and how that, in turn, has impacted development of the region?

Genevieve Carpio is Assistant Professor of Chicana/o Studies at UCLA, where she works on questions related to spatial theory and histories of relational racial formation. She holds a PhD in American Studies and Ethnicity and a Masters in Urban Planning. She has published in American Quarterly, Journal of American History, and Journal of Urban Affairs, among other venues. Carpio is author of Collisions at the Crossroads: How Place and Mobility Make Race (University of California Press, 2019).

Juan De Lara is a geographer and an Associate Professor in American Studies and Ethnicity at the University of Southern California. His book, Inland Shift: Race, Space, and Capital in Inland Southern California is now available from UC Press. The book uses logistics and commodity chains to unpack the black box of globalization. Professor De Lara's research interests include social movements, urban political economy, Latinx geographies, logistics, immigration, and the racial politics of big data analytics.

"I wanted to learn what the Inland Empire could teach us about race, space, and power that East LA could not." —De Lara, Inland Shift

In her book Collisions at the Crossroads, Carpio discusses "National Mythologies" and "An Anglo Fantasy Past," which, "elevated white settlers as pioneers, erased Indigenous and Mexican dispossession, and located Chinese residents as perpetual foreigners."

This event is free and open to the public. Sponsored by UCR Center for Ideas and Society.