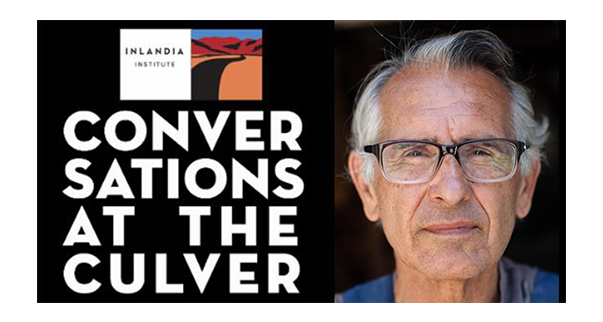 Inlandia Institute's Conversations at the Culver Presents Hispanic Truths: Ron Arias in conversation with Juan Delgado
A reading and talk with authors Ron Arias and Juan Delgado
Culver Center of the Arts
September 2, 2018
| | |
| --- | --- |
| Reading and Discussion | Sunday, September 2, 2018, 1:30pm - 3:00pm |
FREE ADMISSION!
On Sunday, September 2, 2018, please join Inlandia for Hispanic Truths: Ron Arias in conversation with Juan Delgado. This event begins at 1:30 pm.
This month's Conversations at the Culver will focus on Arias' lifelong search for the truths about his Hispanic origins in a personal journey through research, life experience and creative work in fiction and non-fiction books.
Arias will read from a chapter of his novel-in-progress, Gardens of Plenty, titled "Love On The Run." The chapter takes place in 1570 in the wilds of the Sierra Gorda of eastern, present-day Mexico, as well as discuss his other publications and career.
About Ron Arias
Ron Arias is a former newspaper and magazine journalist, most recently a writer and global correspondent for 22 years at People magazine. He has published the following books: The Road To Tamazunchale, a novel nominated for a National Book Award; Five Against the Sea, Healing from the Heart, Moving Target: A Memoir of Pursuit; White's Rules: Saving Our Youth, One Kid A Time, and My Life As A Pencil. Gardens of Plenty, a coming-of-age novel set in late 16th-century Europe and New Spain (more or less, present-day Mexico). He also taught English for 13 years in the Inland Empire at San Bernardino Valley and Crafton Hills community colleges. Photo credit Peter Sterling
About Juan Delgado
Juan Delgado is a retired professor of English, Creative Writing and Chicano Literature at California State University, San Bernardino. Delgado's collections of poetry are Green Web (1994), selected by poet Dara Weir for the Contemporary Poetry Prize at the University of Georgia; El Campo (1998); and A Rush of Hands (2003). Delgado has been poet-in-residence at the University of Miami. He is the recently retired director of the MFA program in Creative Writing and a professor of English, creative writing, Chicano literature, and poetry at the California State University, San Bernardino.
This program is free and open to the public. It will be followed by a reception, book sales & signing. The Barbara and Art Culver Center of the Arts is located at UCR ARTS at 3834 Main Street on the pedestrian mall in the heart of downtown Riverside. 
The Inlandia Institute is a regionally-focused literary nonprofit and publishing house. 
For more information, please visit www.inlandiaiainstitute.org