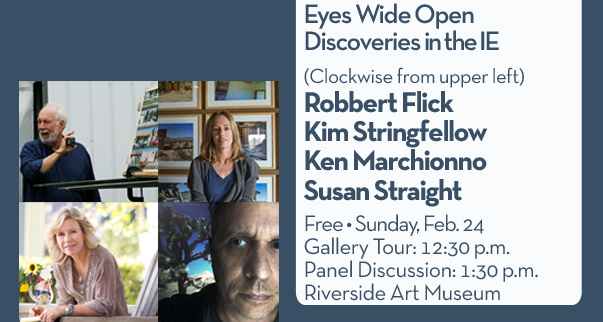 Roundtable at RAM: Eyes Wide Open—Discoveries in the IE
UCR ARTS
February 24, 2019
| | |
| --- | --- |
| Gallery Tour | Sunday, February 24, 2019, 12:30pm - 1:30pm |
| Panel Discussion | Sunday, February 24, 2019, 1:30pm - 2:30pm |
Roundtable at Riverside Art Museum (RAM): Eyes Wide Open—Discoveries in the IE
Sunday, February 24, 2019 
Gallery Tour: 12:30 p.m.
Panel Discussion: 1:30 p.m.
Robbert Flick, Ken Marchionno, Susan Straight, and Kim Stringfellow share their inland discoveries and how their finds inspired their work.
The Riverside Art Museum (RAM) is located at 3424 Mission Inn Ave. in downtown Riverside. 
This event is free and open to the public.