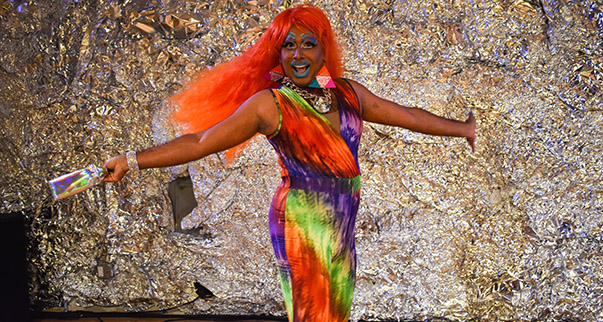 EXPLODE! Queer Dance Festival
Culver Center of the Arts
May 31 - June 1, 2019
Friday, May 31, 8pm
Saturday, June 1, 6pm 
UCR Department of Dance and UCR ARTS present:
EXPLODE! Queer Dance Festival re-imagines the potential of queer dance today. Queerness, in activism and art making, has always pivoted on the promise of coalition. Lesbian, trans, bi, gay, and queer people can come together and make something with their sweat and their bodies. Yet sexism, racism, classism, and transphobia have kept that promise from being fully realized in practice.
EXPLODE! takes on this challenge. The two-night festival, hosted by fierce desi drag queen LaWhore Vagistan and curated by dance scholar Clare Croft, features a range of dance forms - including South Asian dance, improvisation, Indigenous performances, and drag - danced by artists from across the US and around the world. 
This production of EXPLODE! Queer Dance Festival is coordinated in collaboration with the 2019 Indigenous Choreographers at Riverside Gathering, with overlapping programming.
Curator: Clare Croft; Image: LaWhore Vagistan (Kareem Khubchandani). Photo credit: Al Evangelista.