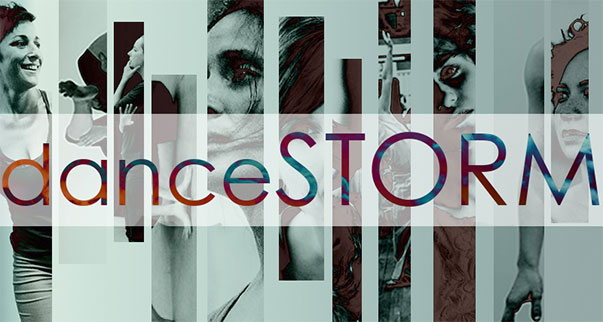 danceSTORM
Culver Center of the Arts
June 21, 2014
| | |
| --- | --- |
| Program | Saturday, June 21, 2014, 10:30am - 6:30pm |
danceSTORM, a day long happening with movement exploration workshops and dance performances, is scheduled for Saturday, June 21, 2014, at UC Riverside's Culver Center of the Arts and the Body Temple in downtown Riverside, CA from 10:30 AM to 6:30 PM, free admission to all events.

danceSTORM is designed to offer process-based workshops and performances that coincide with the aesthetics and pertinent questions that are driving the selected artists' current work.

danceSTORM is organized in collaboration with the host-sites, UCR Culver Center of the Arts and the Body Temple. The Culver Center of the Arts' mission is to provide a cultural presence, educational resource, community center and intellectual meeting ground for the University of California, Riverside, and the community. The Body Temple is nestled in the basement level of the historic Life Arts Center in downtown Riverside. Their intention is to create a beautiful healing environment where people can go to learn about the rich culture and dance styles of the Middle East and North Africa. They are also the home of the Women's Theater Workshop and Women Creating Peace Collective.

Workshops will be held here at the Culver Center of the Arts and the Body Temple. Please refer to the website for workshop schedules: https://www.facebook.com/events/310420182446376/ The dance performance is scheduled for 5:00-6:30 pm in the Atrium of the Culver Center of the Arts. The workshops and performance are free and open to the public.

danceSTORM organizers are pleased to feature emerging and versed women directors in the field of dance: Sofia Olga Carraras, Megan Fowler-Hurst, Hannah Schwadron, Julie Satow Freeman, Tracy Tom-Hoon and Crystal Sepúlveda.


danceSTORM Workshops + BIOS

The Body Temple 10:30am - 12:00pm
Delineating ritual in everyday practice with Tracy Tom--Hoon

Focusing on everyday movements and finding appreciation for the simple gesture. All levels encouraged to observe, deconstruct and reassemble the movements we take for granted.

Tracy Tom--Hoon is a local Riverside dancer and choreographer. Tracy is involved in the local art community, learning and finding inspiration from other artists' and their respective medium. Tracy can be found quietly observing, poking around and seeking the next everyday influence to generate new work.

The Body Temple 12:15pm - 1:45pm
Intersect Dance Theatre master class with Sofia Carreras

A new approach to traditional ballet barre, transitioning to contemporary and modern center, while introducing a basic exploration of character development.

Sofia Olga Carreras, founder and artistic director of Intersect Dance Theatre, and Associate Professor of Dance at Riverside City College, was born in Barcelona, trained at the Ecole de Danse du Grand--Théâtre de Genève, and danced with the San Francisco Ballet and the Sacramento Ballet (as soloist) before taking her MFA in Dance at UC Irvine. Her choreography has been performed in festivals in Europe (Varna) and New York (Lincoln Center), at Highways of Santa Monica, Landis of Riverside, and numerous other locations throughout Southern California. You can visit www.IntersectDanceTheatre.com.

Culver Center 12:15pm - 1:45pm
partnering a SOLO with Crystal Sepúlveda & collaborators

Partnering a SOLO is a process--based workshop designed to facilitate heightened awareness, sensitivity and physical connection with self and another or other bodies in an environment of active decision--making, listening, contact and physical problem--solving in the moment. Participants will engage in an opportunity to learn choreographed material and improvisational structures performed by Alfonso Cervera & Cydney Watson as an outside source of inspiration to create their own witnessed renditions of partnering a SOLO.

Crystal Sepúlveda is a co--founder of danceSTORM, choreographer and dance teaching artist from Miami, FL. She holds an M.F.A in Experimental Choreography from the University of California, Riverside. Her choreographic work has been presented at the CUNY Graduate Center Department of Music (New York City), Highways Performance Space (Santa Monica), Milkbar (Oakland) Culver Center for the Arts (Riverside), Chez Buskwick Studio (Brooklyn), homeLA (Los Angeles) Studio1415 and Excello Dance Space (Miami).

The Body Temple 2:00pm - 3:30pm
Circuits of Exchange with Julie Satow Freeman

Utilizing a variety of creative processing methods, workshop participants will explore multiple points of access into their own creative movement potential. We will explore the continuum between interior and exterior motivation as a means of discovering those instances, stirrings, and callings that are specific to each student. Improvisational movement exercises will be directed with an eye toward facilitating connection to self, to other, and to discovering individual artistic preference and bias. Come dressed to move and ready to improvise.

Julie Satow Freeman holds her MFA in dance from UCR, and has been part of the dance faculty at Mt. San Jacinto College for more than twenty years. She has performed in the Olympic Arts Festival and the Dance Kaleidoscope Festival, has shared solo work at the Edinburgh Festival Fringe, and has choreographed for Trolley Dances Riverside. Julie is a co--founder of P.L.A.C.E. Performance. www.placeperformance.org

Culver Center 2:00pm - 3:30pm
Fearless Dancing with Megan Fowler--Hurst

This workshop focuses on a creative, supportive environment. We will explore the moving, thinking body as it relates to gravity, momentum, force, release and flow. The first half will be movement centered and the second half will utilize a creative component, implementing improvisation, by applying vocalization, gesture and total--body movement.

Megan Fowler--Hurst is a Dancer and Choreographer from Riverside, CA. Some of the influential women she has trained with are Sue Roginski, Julie Satow Freeman, Holly Johnston, Rebecca Lemme and Sophia Carreras. She has performed with Lux Boreal Danza Contemporanea, IN/EX Dance Project, P.L.A.C.E. Performance, Performance Riverside, B.R.A.V.A, Riverside's Trolley Dances and Intersect Dance Theatre. She is currently working towards her BFA in Dance at CalArts.

Culver Center 2:00pm - 3:30pm
flurry or flood/improvisation for times like ours with Hannah Schwadron

Introduction to improvisatory techniques designed to stretch the physical and conceptual bounds of dance experimentation. All levels, ages, backgrounds, foregrounds welcome to join this led experience of group exploration.

Hannah Schwadron makes and writes about dance from critical and creative perspectives. She received an MFA in Experimental Choreography and a PhD in Critical Dance Studies from UCR. Hannah spent the year teaching theory--practice courses at City University of New York, Queens College and will begin a position as Assistant Professor of Dance History at Florida State University this fall.


danceSTORM is organized by local Riverside artists Crystal Sepúlveda, Sue Roginski, Harmony Wolfe and Tracy Tom-Hoon.