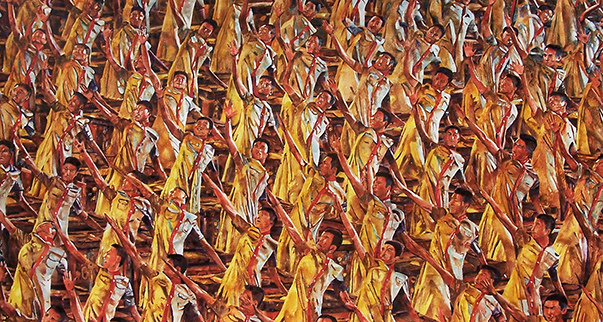 Conrad Ruiz
Visiting Artist Lecture Series 2016 at UCR Art Department
University of California at Riverside
February 9, 2016
| | |
| --- | --- |
| Arts Building Room 335 at UC Riverside campus | Tuesday, February 9, 2016, 4pm - 6pm |
Please note that this event will take place at the UC Riverside campus. Admission is free but seating is limited.
Artist Conrad Ruiz lectures on his multi-faceted work which combines elements of abstraction, hyperrealism, popular culture, and visual illusion. A series of his paintings and a new sculpture are currently on view in the exhibition SECOND WAVE: Aesthetic of the 80s in Today's Contemporary Art at UCR ARTSblock's Culver Center of the Arts and the Sweeney Art Gallery. His work explores the intersection between topics that artists began to investigate during the 1980s: identity and the body. Ruiz touches on the visual representation of machismo which can be seen as the epitome of Latino male strength and intimidation. Through his juxtaposition of hard and soft, Ruiz is able to highlight the vulnerability and insecurities woven into Latino male gender roles into his paintings and sculptures.



Conrad Ruiz received his MFA from the California College of the Arts. He has exhibited at institutions such as the Museum of Contemporary Art in Santa Barbara, Silverman Gallery in San Francisco, Yautepec Gallery, Mexico City, the Torrance Art Museum, Steve Turner Gallery and the Berkeley Art Museum and Pacific Film Archive. He lives and works in Los Angeles, CA.

Conrad Ruiz's participation in the Visiting Artist Lecture Series 2016 is organized by the Department of Art at UC Riverside. Support provided by UCR's College of Humanities, Arts, and Social Sciences (CHASS), and the City of Riverside. 




Image: Conrad Ruiz "Firebenders," 2012, watercolor on paper, 42 x 73 inches (45 x 77 inches framed)