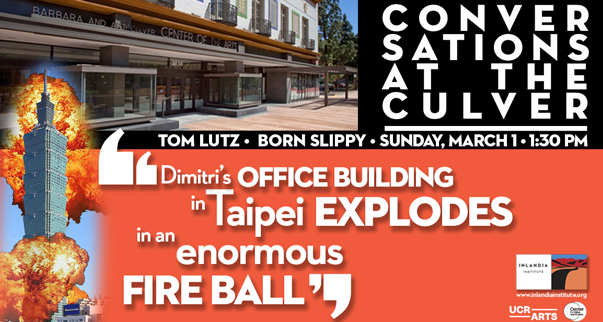 Inlandia Institute's Conversations at the Culver Presents Born Slippy: A Neo Noir Thriller
Culver Center of the Arts
March 1, 2020
| | |
| --- | --- |
| Reading and Discussion | Sunday, March 1, 2020, 1:30pm - 3:30pm |
Free Admission!
Join Inlandia Institute at Conversations at the Culver for Tom Lutz and his first novel, Born Slippy. With elements of noir, adventure, romance, and political satire, Lutz seduces us into a literary meditation, explorations of masculinity and blurred morality under global capitalism and bulldozing rapacity. 
Frank Baltimore is a bit of a loser, struggling by as a carpenter and handyman in rural New England when he gets his big break, building a mansion in the executive suburbs of Hartford. One of his workers is a charismatic eighteen-year-old kid from Liverpool, Dmitry, in the US in the summer before university. Dmitry is a charming sociopath, who develops a fascination with his autodidact philosopher boss, perhaps thinking that, if he could figure out what made Frank tick, he could be less of a pig. Dmitry heads to Asia and makes a neo-imperialist fortune, with a trail of corpses in his wake. When Dmitry's office building in Taipei explodes in an enormous fireball, Frank heads to Asia, falls in love with Dmitry's wife, and things go from bad to worse.
The first novel from the founder/editor-in-chief of the Los Angeles Review of Books!