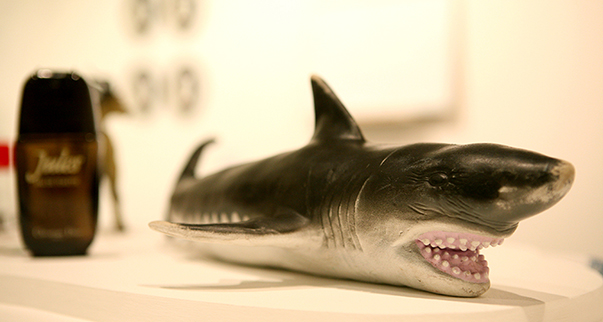 Artist Walkthrough with Xavier Cázares Cortéz
Culver Center of the Arts
July 7, 2018
| | |
| --- | --- |
| Artst Walkthrough | Saturday, July 7, 2018, 5pm - 6pm |
Join Xavier Cázares Cortéz for an artist walkthrough of his exhibition, FINGERS ARE CROSSED just in case, July 7, 5-6 PM, at the Culver Center of the Arts. 
Xavier Cázares Cortéz's FINGERS ARE CROSSED just in case is a sprawling, mixed media installation that examines the proliferation of objects and text. Comprised of a series of structural arrangements he describes as "feralscapes", Cortéz employs the use of several thousand pieces from his personal archive of objects to challenge the source of their meaning, and the association to their surroundings. His sculptural arrangements integrate the tendencies found in color field paintings while appropriating institutional methodologies of archiving, collecting, organizing and exhibiting objects. FINGERS ARE CROSSED just in case reflects a visual dichotomy of organized chaos that invites the viewer to evaluate the taxonomy of things they may have possessed, and their personal association to them.
This event is free and open to the public.

(IMAGE) WITH A MOUTH FULL OF TEETH, from the installation, SUDDENLY WE HAD nothing, 2012. Dimensions variable. Plastic objects and etched Christian Dior cologne bottle. Courtesy of the artist. Photograph by Rodd Lindstrom.