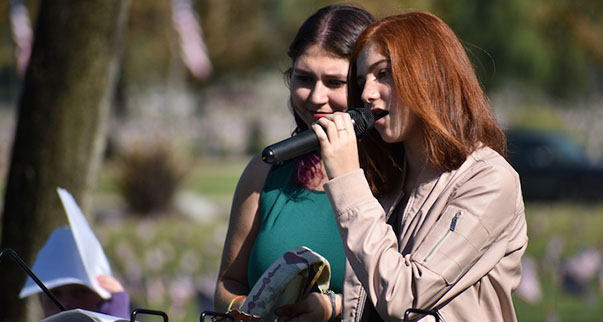 Along the Chaparral: Memorializing the Enshrined 2019 Closing Celebration
Culver Center of the Arts
November 7, 2019
| | |
| --- | --- |
| Closing Celebration | Thursday, November 7, 2019, 6pm - 7pm |
Free and open to the public!
Along the Chaparral: Memorializing the Enshrined 2019 Closing Celebration
Please join us for a closing project phase celebration with welcome, updates on results, screening of samples from resulting documentaries, GIS WebApp with K-12 stories, a peek at the fantastic new mural at Sherman Indian High School, anthologies of K-12 writing, a terrific youth performance, project wrap, and refreshments.  


Opening and closing comments by project Co-Principal Investigators Professors Wesley Leonard and Michelle Raheja.
Presentations include Mike Cohen and Kat Koziar.
Performances led by UC Riverside Performance Fellows: P. Dante Cuahtemoc, Dance Performance Fellow; Jessica Gutierrez Masini, Music Project Performance Fellow; and Jasmine E. Smith, Creative Writing Performance Fellow.
Along the Chaparral: Memorializing the Enshrined, Allison Hedge Coke, Principal Investigator, Director Distinguished Professor, Department of Creative Writing, UCR. 
Information: visit alongthechaparral.ucr.edu for more information or contact allisonh@ucr.edu wesleyl@ucr.edu or michelle.raheja@ucr.edu
Additional details for this event can be found: https://events.ucr.edu/event/along_the_chaparral_memorializing_the_enshrined_2019_closing_celebration#.XcHvuL97lqc
Image: Veterans Day Performance at Riverside National Cemetary with UCR Fellow Jessica Gutierrez Masini and Highland Academy Charter School 8th Grader Kathryn Taber. Photo credit: Carlos Puma.