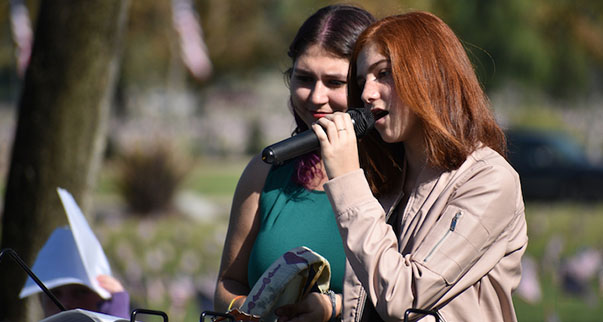 Along the Chaparral: Memorializing the Enshrined
Closing Celebration
Culver Center of the Arts
November 29, 2018
| | |
| --- | --- |
| Closing Celebration | Thursday, November 29, 2018, 6pm - 8pm |
Along the Chaparral: Memorializing the Enshrined

Please join us for a closing project phase celebration with welcome, updates on results, a brief performance, project wrap, and refreshments.
Free and open to the public.
A UC Riverside project in collaboration with the Riverside Unified School District, Beaumont Unified School District, Temecula Valley School District, and Sherman Indian High School and in collaboration with the Legacy Program of the Veterans Administration, National Cemetery Administration
Parking: There are two public parking garages on 9th street, one on either side of Main Street, that will put you within a block of the event.
Information: allisonh@ucr.edu
Along the Chaparral: Memorializing the Enshrined
Allison Hedge Coke, Principal Investigator, Director
Distinguished Professor, Department of Creative Writing, UCR
Image: Veterans Day Performance at Riverside National Cemetery with UCR Fellow Jessica Gutierrez Masini and Highland Academy Charter School 8th Grader Kathryn Taber. Photo credit: Carlos Puma