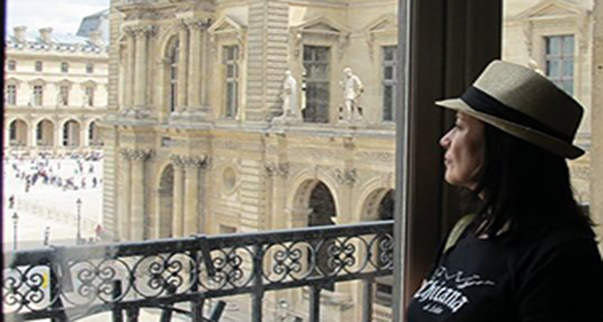 Inlandia Institute Presents: Conversations at the Culver
Revealing Layers: Chicana Voices from the Inland Empire" Featuring liz gonzález and Isabel Quintero with Veronica Ortega
Culver Center of the Arts
December 3, 2017
| | |
| --- | --- |
| Revealing Layers: Chicana Voices from the Inland Empire" Featuring liz gonzález and Isabel Quintero with Veronica Ortega | Sunday, December 3, 2017, 1:30pm - 3:00pm |
Free admission
Inlandia Institute presents a cutting-edge charla with acclaimed authors Liz González and Isabel Quintero. Their lyrical multi-genre Chicana voices will be the focus as they read and discuss their award-winning works inspired by the complex Mexican American experience on Sunday Decem-ber 3, 2017 from 1:30 - 3:00 pm at the Barbara and Art Culver Center of the Arts.

This event is in partnership with UCR Chicano Student Programs, Division Nine Gallery, and The Multicultural Council of the Riverside Museum Associates and is free and open to the public. 

Make your visit to UCR ARTSblock complete: Arrive early at 12 pm and enjoy a complimentary tour of the Mundos Alternos exhibit. We will gather next door at the California Museum of Photography's front desk to begin the tour, which will conclude with refreshments in the Culver Center prior to the start of the formal program. 

The Barbara and Art Culver Center of the Arts is located in UCR's ARTSblock at 3834 Main Street in downtown Riverside.

LIZ GONZÁLEZ grew up in the San Bernardino Valley. Her poetry, fiction, and memoirs have been published widely. Her work will appear in or recently appeared in City of Los Angeles 2017 Latino Heritage Month Calendar and Cultural Guide, Inlandia: San Bernardino, Litbreak Magazine, Askew Poetry Journal, and Cultural Weekly, and in the anthologies Voices from Leimert Park Anthology Redux, The Coiled Serpent, and Wide Awake. Her recent awards include a 2017 Residency at Kimmel Harding Nelson Center for the Arts and a 2017 Arts Council for Long Beach Professional Development Microgrant. She directs Uptown Word & Arts and teaches creative writing through the UCLA Extension Writers' Program.

Juan Felipe Herrera, US Poet Laureate says, "liz gonzález writes with the hand of an assemblage artist and the voice of a Neo-Frida Kahlo and a re-invented Dolores del Rio. Her poems become performance pieces, fractured cinemas from dreams and day-to-day enlightenments. She paints the body, the face and the broken column of the self. The poems are lunar and prismatic; they move from abstract inves-tigations of surface, being and impermanence and on to the journals of the erotic, meditations of ab-sence and the nerve matters of death and desire." -

"My fingers trembled, making it hard to fasten the hooks and eyes on the side of my dress. It was chilly in the store, but I didn't have to cover up my dress with a sweater. I was hot from the excitement."
~ Nellie, from "Sweethearts," forthcoming in Inlandia's anthology on San Bernardino.

ISABEL QUINTERO'S acclaimed debut novel, Gabi, A Girl in Pieces, was one of School Library Journal and Kirkus Reviews Best Books of 2014, and won the American Library Association's William C. Morris Award prize for a debut young-adult novel and the Tomás Rivera Book Award, Works for Older Children. Her second book, Ugly Cat & Pablo (Scholastic), was published in April 2017, to much praise. She recently completed her latest young adult graphic novel, Photographic: The Life of Graciela Iturbide, in collaboration with artist Zeke Peña. Quintero teaches at San Bernardino Valley College and Mt. San Jacinto College and works as a freelance writer for the Arts Connection of San Bernardino. 

From Kirkus Review: "Readers won't soon forget Gabi, a young woman coming into her own in the face of intense pressure from her family, culture and society to fit someone else's idea of what it means to be a "good" girl. A fresh, authentic and honest exploration of contemporary Latina identity.""

Haiku for My Mother
What is left now that
The hungriest one is gone?
Only heartache soup.
~ Gabi Hernandez, the protagonist from Gabi, a Girl in Pieces

Veronica Ortega is a visual artist in the Inland Empire. Veronica shares her arte through local events and school presentations. She served as a mentor to students at Moreno Valley College Puente and North High School Law Academy, and worked with the non-profit HCA offering youth art programs. Veronica has worked on projects with Latino Network, UCR Chicano Student Pro-grams, Division 9 Gallery and VatosyViclas magazine. She continues to be inspired by familia, art-ists, activists, and small moments in life. 

The Inlandia Institute is a regionally-focused literary nonprofit and publishing house. For more informa-tion, please visit www.inlandiaiainstitute.org. This event is free and open to the public.