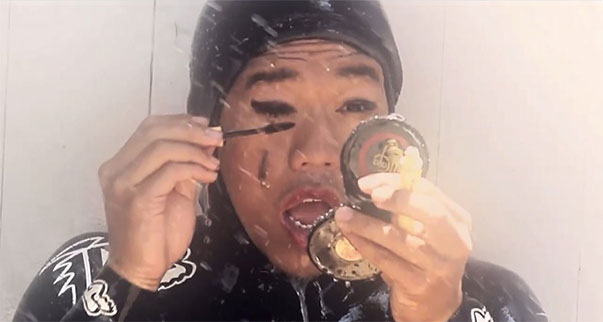 Queer Sites and Sounds
Culver Center of the Arts
October 16, 2014
| | |
| --- | --- |
| One-Day Symposium, Free Admission | Thursday, October 16, 2014, 12pm - 7pm |
| Reception, Free Admission | Thursday, October 16, 2014, 7pm - 8pm |
Free admission, limited seating
Drawn from the Center for Art and Thought's virtual exhibition, Queer Sites and Sounds explores the possibilities of queer engagement across multiple virtual spaces and showcases queer new media and digital interventions The works included here and online challenge and exceed how Filipino bodies, affects, and processes are conventionally understood and how they are entangled with other queer bodies and practices virtually and offline.

The Queer Sites and Sounds exhibition at Culver Center of the arts features work by Eliza Barrios, Kiam Marcelo Junio, Kat Larson, Miguel Libarnes, Gina Osterloh, Jeffrey Augustine Songco, and Ronaldo Wilson. The symposium will feature the curator of the exhibition and its artists. Works by additional artists may be found online at www.centerforartandthought.org.

Queer Sites and Sounds is presented at UC Riverside's ARTSblock's Culver Center of the Arts. The exhibition has been curated by Jan Christian Bernabe, the Operations, New Media and Curatorial Director for the Center for Art and Thought, along with assistance from Clare Counihan and Matthew Andrews. Support for the exhibition has been provided by the California Institute of Contemporary Arts, UC Riverside's Queer Lab, UC Riverside's Department of Media and Cultural Studies, and donors to the Center for Art and Thought. General support for UCR ARTSblock programs has been provided by UC Riverside's College of Humanities, Arts, and Social Sciences, and the City of Riverside.

The symposium is co-sponsored with UC Riverside's Queer Lab

Schedule

12-12:15 Opening remarks by curator Jan Christian Bernabe
12:30-1:30 Gina Osterloh, artist
1:45-2:45 Kiam Marcelo Junio, artist
2:45-3:00 Coffee break
3:00-4:00 Jeffrey Augustine Songco, artist
4:15-5:15 Ronaldo Wilson, artist
5:30-7:00 Closing roundtable discussion
7:00-8:00 Reception


Image credit
Miguel Libarnes, Mascara, 2012, still from video performance, 3 mins. 32 secs., courtesy of the artist.