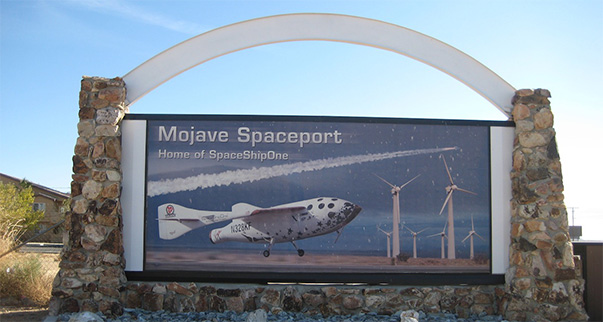 Off-Site Visit to the Mojave Air & Space Port
Ground Zero for a New Entrepreneurial Space Age
UCR ARTS
March 16, 2013
| | |
| --- | --- |
| Off-Site Visit | Saturday, March 16, 2013, 10am - 2pm |
Join Free Enterprise co-curators Tyler Stallings and Marko Peljhan during the monthly Plane Crazy event at the Mojave Space & Air Port, ground zero for a new entrepreneurial space age.

Organized in conjunction with UCR ARTSblock's groundbreaking exhibition, "Free Enterprise: The Art of Citizen Space Exploration," the first contemporary art exhibition in the U.S. to present an international array of artists and organizations who are exploring the potential democratization of space exploration and the intersection between artistic production and civilian space travel.

You will be led on a tour the ground breaking experimental space craft that have been developed in the past decade, along with a focused tour of XCOR Aerospace, which will include a special behind-the-scenes access treat, to be announced on site. Experimental and general aviation aircraft will also be on display on the airport flight line.

10am: meet Tyler and Marko in Voyager Restaurant parking lot
10 - 10:45am: view Spaceship One and Rotary Rocket
11am - 12pm: Lecture on Rocket Photography With Mike Massee from XCOR Aerospace, Inc., whose work is featured in Free Enterprise, along with experimental space planes and engines.
12 - 1pm: bring your own lunch, eat at Voyager Restaurant or in Mojave town; or see other sites at Mojave Air and Space Port (usually, there's a little trolley that takes people around to different hangars)
1 - 2pm: tour XCOR Aerospace and experience a special treat to be announced on site, http://xcor.com/


DIRECTIONS: Drive from Los Angeles is approximately 1 1-2 hours or 2 hours from Riverside. Located near Edwards Air Force Base. From the 14-North, RIGHT onto 58 Mojave-Barstow Hwy., (mapping program may indicate continuing on 14-North instead and turn right onto Belshaw St. but this is indirect) LEFT onto Airport Blvd., drive past displayed airplane on left and entrance sign on right, continue north on road, drive past the tall space ship on your left, then you will see the Voyager Restaurant ahead. Meet Marko and Tyler in the parking lot. They will have a sign indicating the meeting spot.

Make a full day of it and visit other interesting sites in the area:
Exotic Feline Breeding Compound's Feline Conservation Center, http://www.cathouse-fcc.org/
Lancaster Museum of Art & History (just opened a year ago), http://www.lancastermoah.org/

There is a restaurant on site and several in the nearby town of Mojave. http://mojaveairport.com/.

The event is free but RSVP is appreciated and for receiving updates. Send an email that expresses interest to artsblock@ucr.edu, or accept an invite at our Facebook page.