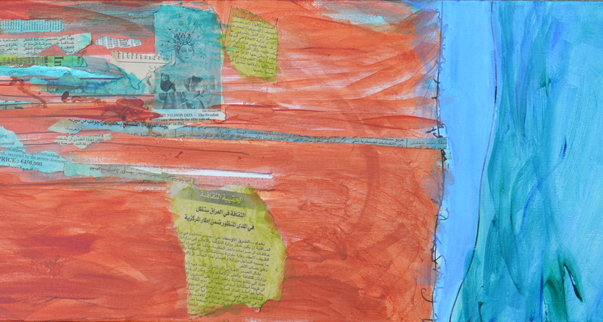 Moving Matters
The Art of Serial Migration
Culver Center of the Arts
May 28, 2013
| | |
| --- | --- |
| Moving Matters | Tuesday, May 28, 2013, 1pm - 4pm |
This workshop brings together visual artists, dancers, actors, musicians and creative writers to respond to Moving Matters: Paths of Serial Migration, Susan Ossman's new book about people who have lived in several countries. Working through art to respond to the text but also what any book inevitably leaves out, they react to debates on cosmopolitanism, address the politics of mobility and offer commentary on the transnational continuities of social life and self, evoking their own experiences of living with several homelands. Their performances and presentations will be followed by a discussion. The workshop will serve as a basis for developing a template for similar events to be held around the world, leading to the production of a website and documentary film.


Participants
Alexandru Balesescu
. Life wiggles. Everything that is alive moves. So do people. Movement is the natural state. The only thing un-natural are borders. Fear keeps them up. Fear is frozen, immobile, paralyzed. Violence is fear in disguise. Alexandru Balasescu is alive. He is co-founder of subliant/3:14. He keeps moving.
Paulo C. Chagas
is a Brazilian composer, active in Europe, Brazil, and the United States. He is currently professor of Composition at the University of California, Riverside and Music Department Chair. A very versatile composer, Chagas has written over 100 works of vocal, instrumental and electroacoustic music. He is also a prolific author of books and articles on musical semiotics, aesthetics and theory.
Erith Jaffe-Berg
is associate professor of theatre at the University of California at Riverside, where she also co-chairs the Minor in Peace and Conflict Studies. She is the Author of
The Multilingual Art of Commedia dell'Arte
(Legas, 2009) and has published articles in
Early Theatre, The Journal of Dramatic Theory and Criticism, Quaderni d'Italinistica, Quaderni di Studi Arabi, Scripta Mediterranea, Text & Presentation
, and various other journals and edited collections. She is currently completing a book manuscript titled
Mediterranean Cartographies in Commedia dell'Arte
. She is a member of the Son of Semele Ensemble, an LA based theatre company.
Barbara James
: homes left behind: Fargo, ND/ Virginia Beach, VA/ Naples, Italy/ Haddenfield, MA/ Liverpool, NY/ Newark, DE/ Richmond, VA/ Davao City, Philippines/ San Francisco, CA/ Alma-Aty, Kazakhstan/ Ashgabat, Turkmenistan/ London, England/ Basel, Switzerland/Riverside, CA. Portfolio: Friends who became family/ wonderful memories / 3 fascinating adult children. valuable items: computer with scanned photos, diary of handmade quilts / best friend and husband.
Stephen James
is a dual American-British national. Born in the United States, Stephen began his migratory journey at the age of 18 months, spending the next 13 years in Vietnam and completing secondary school in Taiwan. He and his wife Barbara raised three children, living and working on the continents of Asia, North America and Europe over the past 30 years. He calls London, England home, but currently lives and works in Riverside, CA as a consultant in Intercultural Communication.
Tabassum "Ruhi" Khan
is a wanderer, story teller, and filmmaker who has found inspiration in movement. At first following her engineer father around India and Middle-East and then her own calling which took her through clearing houses such as Discovery Channel, National Geographic Channel, and STAR TV from Washington DC, to New Delhi, to Hong Kong as a producer, director, and channel manager. Currently she is an academic based in Southern California, mapping the story of the inevitability of change and the movement engendered by globalization which sweeps away even those imagined as inert and unchangeable.
George Marcus
came to the University of California, Irvine, eight years ago, after many years leading the Department of Anthropology, Rice University, especially through the transdisciplinary period (1980s-mid 1990s) of excitement about new theories and critiques of culture. All along and particularly now, he has been interested in the interfaces--some pursued, some imagined, some barely conceived--between art performance, in its various genres, and its affinities with the pursuit of anthropological research. These have been a key concern of the
Center for Ethnography
which he founded when he moved to UCI, in 2005.
Beatriz Mejia-Krumbein
was born and raised in Colombia. She lived in Germany and Mexico before immigrating to the United States in 1987. She studied Fine Arts and Music in Colombia, and received an M.F.A. from James Madison University. She is the current chair of the Art Department and director of the Brandstater Gallery at La Sierra University in Riverside. Her art deals with emigration, displacement, exploitation, violence and abuse, and implores viewers to confront the convoluted inequalities of our modern world. In layered mixed media, Mejia-Krumbein creates figures and faces charged with emotions that mirror the layers and complexities of the issues she depicts.
Noha Mellor
is a native Egyptian, who resided in Denmark before moving to the UK. She is Professor of Media at Bedfordshire University, UK and the author of several books about Arab media, most recently
Arab Journalists in Transnational Media
.
Susan Ossman
is an anthropologist and artist. She has made her home in France, Morocco, the UK and the USA. She currently teaches at UCR where she directs the Global Studies program. Her latest book is
Moving Matters: Paths of Serial Migration
.
Gareth Stanton
is an anthropologist and media academic who has worked in Morocco, Gibraltar and Bangladesh. Taking inspiration from Susan Ossman's innovative treatment of the serial migrant, he re-evaluates a trip he took around Ghana with his aging father who was revisiting the country in 2011 for the first time in fifty years.
Natalie Zervou
is a dancer and a PhD student in Critical Dance Studies at the University of California, Riverside. Aside from Dance she also has a degree in Political Science, as well as an MA in "Dance Cultures, Histories and Practices". Currently her research interests concern the transnational aspects of Greek modern dance and its relation to discourses of Hellenism and institutionalized conceptions of national identity.