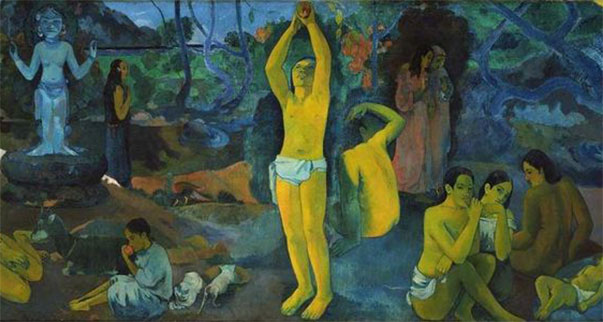 Exchange: Assimilation & Appropriation in the Arts
Third Annual UCR History of Art Graduate Student Conference
California Museum of Photography
May 17, 2014
| | |
| --- | --- |
| Conference | Saturday, May 17, 2014, 9:30am - 4:30pm |
From antique and early modern forms of trade, exploration and colonization to more modern forms of cultural contact through immigration and the development of the internet, cultural exchange continues to have an impact on the construction of the arts and art trends around the world. This multi-disciplinary conference seeks to explore the relationship between assimilation and appropriation in the arts, in any of its forms, from antiquity to the contemporary.

Sophisticated networks of trade, world exploration and cultural sovereignty established and experienced throughout antiquity and the early modern period changed local arts and impacted cultural exchange. This form of contact can be traced back as early as 700 BCE, as influential Greek colonies were established in what is today known as Italy. Similarly, the Dutch invasion and colonization of Indonesia during the seventeenth century also had a major lasting impact on the cultural makeup of the region. Cultural exchange has not been limited to physical avenues, however, and the movement of ideas by visual forms of exchange has fostered artistic inspiration and aesthetic amalgamation. For example, upon encountering African masks in Parisian museums, Pablo Picasso appropriated certain African aesthetics for his cubist studies. Similarly, late nineteenth century American artist William Merritt Chase borrowed motifs inspired by Japanese prints and ceramics. These brief examples serve to demonstrate our expanded approach to the idea of assimilation and appropriation as integral aspects of artistic and cultural development, absorption or resistance.

Among the questions we seek to address are: How may cultural and aesthetic authenticity be threatened by the loss of national identity? How have methods of appropriation and vehicles of distribution changed over time through the development of transportation, mechanical reproduction and the internet? What is the overall lasting impact of various forms of exchange, whether experienced through personal travel or cultural invasion, whether accepted or unwelcome, whether voluntary or forced? Approaches to these questions could come in the forms of fine art, fashions, foods, design, architecture, literature, race, religion, and many more.

We invite abstracts of no more than 300 words for 20-minute paper presentations examining the intersection of the arts and assimilation and appropriation, in any of its forms. We encourage papers that demonstrate an interdisciplinary approach to the art-historical record.

Please email abstracts to ahgsa.ucr@gmail.com by Friday, February 28, 2014. The conference will be held at the California Museum of Photography in downtown Riverside, CA, on Saturday, May 17, 2014.

We are honored to host Los Angeles based scholar, Sofia Sanabrais, as this year's keynote speaker.