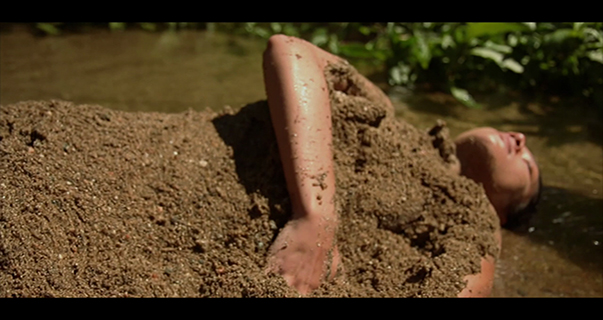 the river knows
California Museum of Photography
Free Admission
| | |
| --- | --- |
| the river knows | Thursday, February 2, 2017, 7:00pm - 7:30pm |
the river knows is a work that came to life in June 2016 down by the Santa Ana River, specifically the stretch that runs through Riverside, CA. It is a work that meditates on the connection between women, mother/land, healing, and water.
The eye of the camera and the river are witnesses to the experiences of women buried and emerging from the earth. The environment and movement quality activate stillness, heightened awareness, and a conscious returning to where earth and river meet. We are awake and among each other.
In Woman who Glows in the Dark: A Curandera Reveals Traditional Aztec Secrets of Physical and Spiritual Health, the late author and Curandera Elena Avila states that one of the ways to bring grounding in a woman's life who has experienced trauma is to bury her in the earth. the river knows has become the site of a healing process, kinship, and sense of grounding for many women. Through the river knows workshop series, locals were invited to gather and discuss the livelihood of rivers, to reconnect with river or experience the river for the first time, silently hike downstream, and help bury and be buried, together.
Crystal Sepúlveda is an interdisciplinary performer artist and movement researcher who believes in the process of embodied knowledge and live improvisational performance. Her work threads notions of place-making, identity, presence, belonging, and communal site-specific experiences into a social art practice.

This performance is in conjunction with the exhibition Still: Movement + the Body Through the Lens, From the Permanent Collections at UCR ARTSblock and is organized by Jennifer Frias, Associate Curator, Sweeney Art Gallery; Nikolay Maslov, Curator of Film and Digital Projects, Culver Center of the Arts; and Kathryn Poindexter, Interim Assistant Curator, California Museum of Photography. UCR's College of Humanities, Arts and Social Sciences (CHASS) and the City of Riverside have provided support.