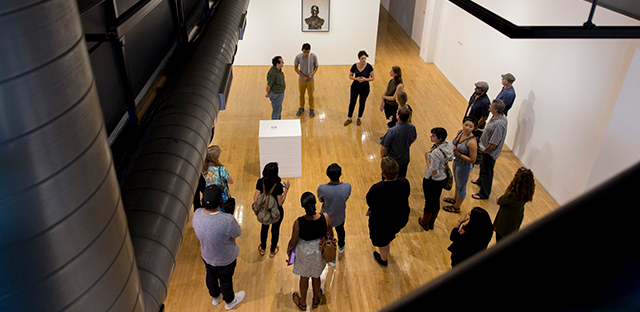 Educational Tours | Fall 2018


Explore for the exhibition
a Handful of Dust: From the Cosmic to the Domestic
at UCR ARTS with your school or group. Tours are lead by the education staff. 


Booking School + Group Tours
Reserve a guided tour of a
Handful of Dust: From the Cosmic to the Domestic.
Below is a list of tour group options.
Reservations require three weeks advanced notice
. Please call (951) 827-6470 to begin your inquiry on available dates.
A) Guided Tour with museum educator - $100 for up to 30 individuals (Schools must provide 1 chaperone per 10 students)

B) Self-guided tour for class or group (without museum educator) - $50 up to 20 individuals. Self-guided tours for K-12 groups must provide 1 adult chaperone for every 10 students)      



About the exhibition

a Handful of Dust: From the Cosmic to the Domestic
is an exhibition that examines dust and debris as an indicator of time, action, and consequence over the course of the 20th century. The exhibition features works by over 30 artists and photographers including John Divola, Marcel Duchamp, Walker Evans, Mona Kuhn, Man Ray, Gerhard Richter, Sophie Ristelhueber, Aaron Siskind, Shomei Tomatsu, Jeff Wall, and Nick Waplington alongside magazine spreads, press photos, postcards, and film clips.