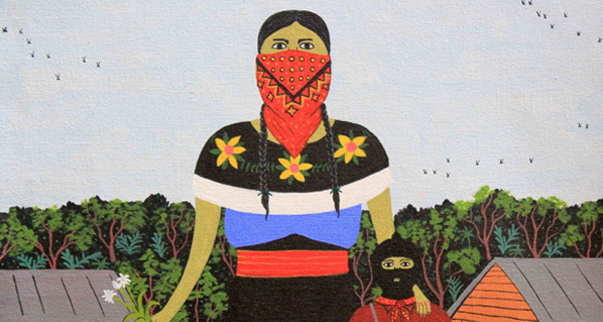 Zapatista Moon
Directed by: Thor Anderson
2017
| | |
| --- | --- |
| Screening and Discussion | Friday, March 16, 2018, 7pm |
Free Admission! Discussion with director Thor Anderson and artist Rigo 23 to follow the screening!
Zapatista Moon
a documentary film-in-progress by Thor Anderson
No reservations required, seating is first come, first served.

Zapatista Moon brings to light the story of an extraordinary, on-going social movement unfolding in Chiapas, Mexico.
The Zapatistas emerged onto the world stage in the pre-dawn hours of January 1st, 1994, when a tiny army of Maya peasants calling themselves the "Zapatista Army of National Liberation" staged a coordinated series of surprise attacks on five municipalities. They called for an end to the neglect suffered by the marginalized poor, and for a new society based on liberty, equality, freedom, and justice. The armed rebellion was short-lived (just twelve days), but the Zapatistas transformed the political landscape of Mexico, and showed the world the potential for indigenous resistance to globalization. Now, more than two decades later, the Zapatistas have, as they put it, "traded our bullets for words," and are pursuing a long-term, peaceful path towards autonomy and, more recently, wider political engagement.  
Using footage of an historic 2007 Meeting of Zapatista Women as a touchstone, Zapatista Moon documents the crucial role of women in their revolution and their on-going struggle for gender justice and equality. During this conference the filmmaker was, with the rest of the men, barred from direct participation, and instructed to attend to the children, cooking, cleaning, and carrying firewood. Consequently, the film also examines men's shifting roles and the impacts of this social movement on civil society, especially as understood by young attendees from around the world.
In addition to addressing issues of gender and social equality, Zapatista Moon reprises key events in the Zapatista's struggle with the visual aid of vibrant Zapatista murals, paintings, and embroidery.
Zapatista Moon draws on the filmmaker's four decades of work in Chiapas with rare archival footage, while also examining his role as an outsider and anthropologist, and, more personally, as a father of daughters. 

The making of Zapatista Moon coincides with the candidacy of an indigenous woman for the presidency of Mexico in 2018. María de Jesús Patricio Martínez, a Nahua healer known as "Marichuy," sees her quest to confront Mexico's current multiple crises as an extension of the Zapatistas' radical agenda. "We have to tear up the roots of what's hurting Mexico. This country needs healing."
Image from "The Autonomous Intergalactic Space Program", a collaboration of Zapatista artists with Rigo 23