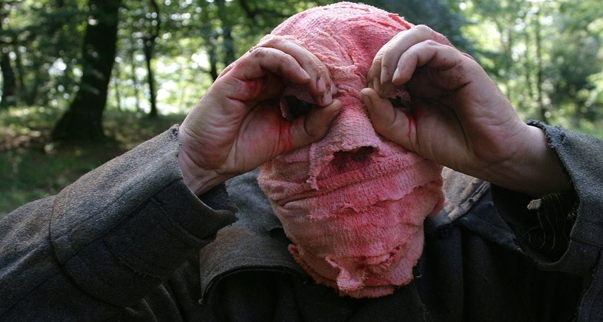 Timecrimes
Directed by: Nacho Vigalondo
2007 | Spain | 92 minutes
| | |
| --- | --- |
| Screening | Friday, January 5, 2018, 7pm |
An ordinary guy takes an extraordinary step through time in this science fiction thriller. Hector (Karra Elejalde) is spending a few days in the countryside with his girlfriend, Clara (Candela Fernández), when he sees something that catches his attention while playing with his binoculars. Looking at a nearby house near a wooded area, Hector spies a beautiful woman taking her clothes off, and decides to take a stroll and give her a closer look. However, when he arrives at the house several minutes later, the woman is lying in the grass and appears to either be dead or passed out. As Hector examines her, he's attacked by a strange man and flees on foot. Hector seeks refuge in a building that turns out to be a research facility owned by a mysterious scientist (Nacho Vigalondo), who gives him a place to hide inside a futuristic closet. However, Hector realizes it was actually a time-travel machine when he emerges a few minutes later and looks out the window to see himself standing over the unconscious woman in the distance. Los Cronocrimenes (aka Timecrimes) was the first feature film from writer and director Nacho Vigalondo, who also appears as the scientist.

This film is presented in conjunction with the exhibition Mundos Alternos: Art and Science Fiction in the Americas, on view at UCR ARTSblock from September 16, 2017 through February 4, 2018. The film program is curated by Sherryl Vint, Director of the Speculative Fiction and Cultures of Science program at UCR, with support from Nikolay Maslov, Curator of Film and Media Projects at UCR ARTSblock.
Mundos Alternos: Art and Science Fiction in the Americas is part of Pacific Standard Time: LA/LA, a far-reaching and ambitious exploration of Latin American and Latino art in dialogue with Los Angeles, taking place from September 2017 through January 2018 at more than 70 cultural institutions across Southern California. Pacific Standard Time is an initiative of the Getty. The presenting sponsor is Bank of America.
Major support for Mundos Alternos is provided through grants from the Getty Foundation.