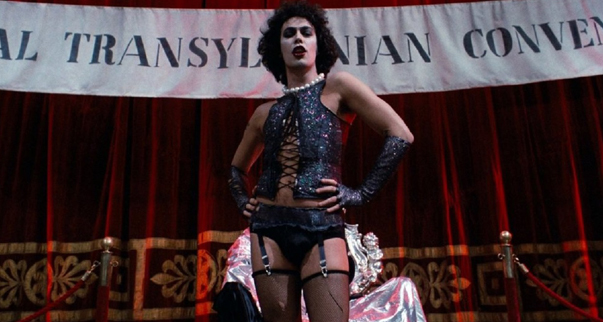 The Rocky Horror Picture Show (POSTPONED)
Directed by: Jim Sharman
1975 | USA | 100 minutes
| | |
| --- | --- |
| Screening | Saturday, March 28, 2020, 10pm |
Newly engaged Brad and Janet get stranded at the strange castle of Dr. Frank-N-Furter after their car breaks down. They are then initiated into the strange world of the "Transsexual Transylvanians" and their customs. Rocky Horror Picture Show brings its quirky characters in tight, but it's the narrative thrust that really drives audiences insane and keeps 'em doing the time warp again.

"The definition of kitsch, Rocky Horror is a campy, musical spoof on the haunted-castle horror movie, encompassing a '70s glam-rock world of androgyny with characters that are more than offbeat." - Maryana Vestic, Common Sense Media
This screening is part of A MARCH MARATHON OF MUSICAL MOVIES! Tickets to ALL films in the series are $25. Click to purchase!