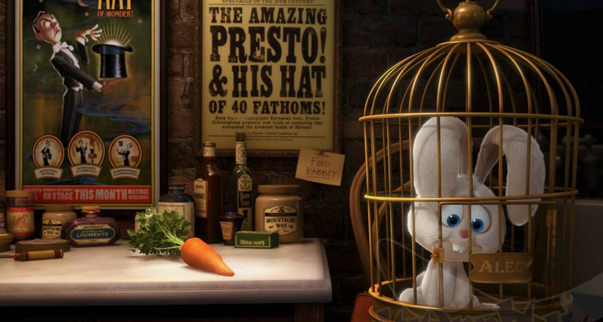 An evening of Pixar Shorts
Directed by: Various
USA
| | |
| --- | --- |
| Screening | Thursday, November 4, 2021, 5pm |
| Screening | Thursday, November 4, 2021, 7pm |
A special evening of Pixar Shorts for students during our first College Night at UCR ARTS!
Bring your current college ID and enjoy admission into the screenings for FREE!
A collection of 12 short films from Pixar Animation Studio, including:

Mater's Tall Tales: Air Mater (2011) - Mater's decision to fly lands him accidentally at a big airshow.
BURN-E (2008) - If BURN-E (a welding robot) had known how much trouble he'd be caused by WALL-E's pursuit of EVE, then he'd have taken the day off.
Day & Night (2010) - The personifications of daytime and nighttime learn to get along.
Dug's Special Mission (2009) - Alpha, Beta, and Gamma try to keep Dug (from "UP") out of their way while they hunt for Kevin the Snipe. However, their instructions for his "very special mission" keep backfiring on them.
George & A.J. (2009) - After Nurses George and A.J. of the Shady Oaks Retirement Village witness Carl (from "UP") leaving with his house towed by balloons, other senior citizens around the city are inspired to make their own "escapes", much to George and A.J.'s chagrin.
Toy Story Toons: Hawaiian Vacation (2011) - The toys throw Ken and Barbie a Hawaiian vacation in Bonnie's room.
La Luna (2011) - A fable of a young boy who is coming of age in the most peculiar of circumstances. Tonight is the very first time his Papa and Grandpa are taking him to work. In an old wooden boat they row far out to sea, and with no land in sight, they stop and wait. A big surprise awaits the little boy as he discovers his family's most unusual line of work. Should he follow the example of his Papa, or his Grandpa? Will he be able to find his own way in the midst of their conflicting opinions and timeworn traditions?
Partly Cloudy (2009) - Everyone knows that the stork delivers babies, but where do the storks get the babies from? The answer lies up in the stratosphere, where cloud people sculpt babies from clouds and bring them to life. Gus, a lonely and insecure grey cloud, is a master at creating "dangerous" babies. Crocodiles, porcupines, rams and more - Gus's beloved creations are works of art, but more than a handful for his loyal delivery stork partner, Peck. As Gus's creations become more and more rambunctious, Peck's job gets harder and harder. How will Peck manage to handle both his hazardous cargo and his friend's fiery temperament?
Presto (2008) - A stage magician's rabbit gets into a magical onstage brawl against his neglectful guardian with two magic hats.
Toy Story Toons: Small Fry (2011) - A fast food restaurant mini variant of Buzz forcibly switches places with the real Buzz and his friends have to deal with the obnoxious impostor.
Mater's Tall Tales: Time Travel Mater (2012) - When a clock lands on Mater's engine, he travels back in time to 1909 where he meets Stanley, an ambitious young car on his way to California. With the help of Lightning McQueen, Mater alters history by convincing Stanley to stay and build Radiator Springs. Stanley meets Lizzie and they commemorate the opening of the new courthouse with their wedding.
Your Friend the Rat (2007) - Remy and Emile (from Ratatouille) plead the case for rats by illustrating the historical and scientific facts about the species and their interaction with humans.
Special thanks to our sponsor: