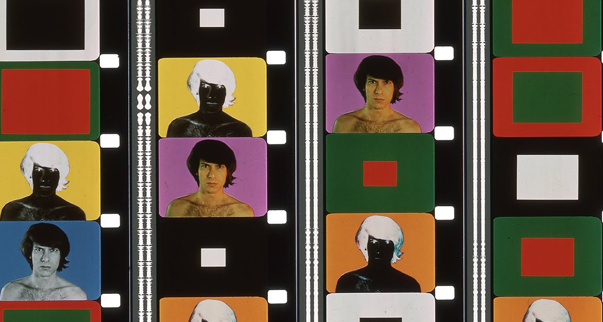 Parallel Inquiries
Directed by: Various
| | |
| --- | --- |
| Screening and Q&A | Saturday, January 26, 2019, 5pm |
Parallel Inquiries
Borrowing its title from Christina C. Nguyen's film, this program follows two recurring themes in experimental film from the 1960s to the present: the nature of the medium, and its relationship to time. The program looks at the legacies of two canonical works of experimental film: Paul Sharits' T,O,U,C,H,I,N,G and Kurt Kren's 31/75 Asyl. Proposing an imagined genealogy of these films into the present, the program includes works that share overlapping and divergent interests: on the one hand the use of flicker, repetition, solid color, and other formal and technical attributes of the medium; and on the other hand the relationships between lived/experiential time, clock time, and the metronomic time of the film strip. The program includes a world premiere by Mike Stoltz. 
Program (all works shown on 16mm) 
Christina C. Nguyen Parallel Inquiries (2016)
Jodie Mack Point de Gaze (2012)
Kurt Kren 31/75 Asyl (1975)
Rose Lowder Bouquets 11-20 (2005-9)
Paul Sharits T, O, U, C, H, I, N, G (1968)
Madison Brookshire Fountain (2016)
Naomi Uman Kalendar (2008)
Tomonari Nishikawa Shibuya-Tokyo (2010)
Mike Stoltz new film (2019)
Several of the artists will be present for a Q&A!
This screening is curated by Dicky Bahto.
Image: Paul Sharits T, O, U, C, H, I, N, G (1968)