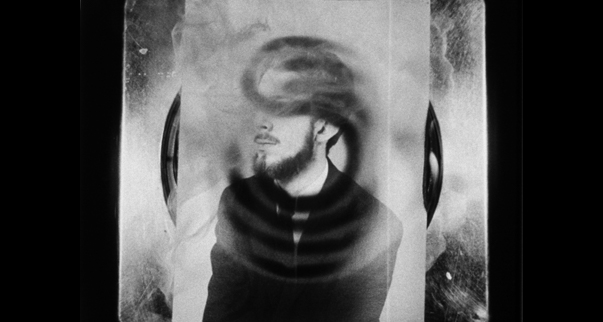 (nostalgia) (POSTPONED)
Directed by: various
| | |
| --- | --- |
| Screening + Q&A | Friday, March 20, 2020, 7pm |
This program is built around Hollis Frampton's seminal work (nostalgia), in which the simple gesture of burning his own photographs paired with narration about them opens up a labyrinth of associations between memory, the nature of photography and film, and the experience of time. The other films on the program, by Gary Beydler, Su Friedrich, Andrew Kim, and Rosario Sotelo, each resonate with different aspects of Frampton's work. Curator Dicky Bahto and artist Andrew Kim in person for a conversation after the screening.
Program:
Gary Beydler Pasadena Freeway Stills (1974) 6 minutes, 16mm, color, silent.
Hollis Frampton (nostalgia) (1973) 36 minutes, 16mm, b/w, sound.
Su Friedrich Gently Down the Stream (1981) 14 minutes, 16mm, b/w, silent.
Andrew Kim Some Unseen Lights (2012) 4.5 minutes, 16mm, b/w, silent.
Rosario Sotelo Recámara (2010) 3 minutes, 16mm, color, silent. (projected digitally)
"In (nostalgia) the time it takes for a photograph to burn (and thus confirm its two-dimensionality) becomes the clock within the film, while Frampton plays the critic, asynchronously glossing, explicating, narrating, mythologizing his earlier art, and his earlier life, as he commits them both to the fire of a labyrinthine structure; for Borges too was one of his earlier masters, and he grins behind the facades of logic, mathematics, and physical demonstration which are the formal metaphors for most of Frampton's films." –P. Adams Sitney.
"...her films (particularly the celebrated Gently Down the Stream) signaled an important change that was occurring with the evolution of experimental cinema....The film demonstrates Friedrich's considerable technical talents and formal creativity as well as her canny historical sense in reappropriating the formal strategies generally associated with the "structural film." Friedrich's film becomes a public exorcism, one that continually exposes and infects the viewer with the psychic consequences of religious constraints, familial binds and sexual conflicts." -Bruce Jenkins, Millennium Film Journal
"In … Recámara by Rosario Sotelo, the artist's home is completely transformed by way of cinema as she films the oldest of moving image technologies, the camera obscura, projected on the walls of her apartment. As a small hole in the darkened windows reveals, upside-down, the midday sun and passing cars outside on the walls of Sotelo's bedroom, the simple yet powerful device opens her most intimate spaces to the chance and chaos of the world beyond." – Genevieve Yue
Please note: A ticket reservation does not guarantee a seat for free screenings - unclaimed tickets will be released to the public 10 minutes before showtime.

Image: Hollis Frampton, (nostalgia) (1973)