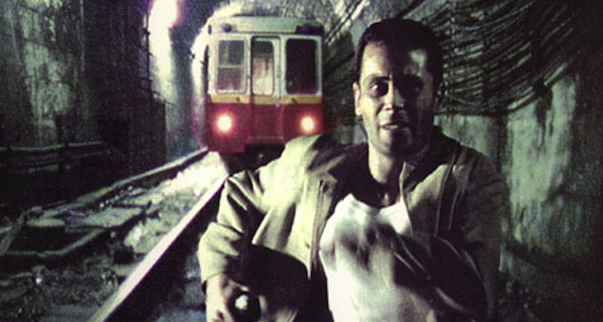 Moebius
Directed by: Gustavo Mosquera R.
1996 | Argentina | 98 minutes
| | |
| --- | --- |
| Screening | Saturday, September 9, 2017, 3pm |
Free Admission!
Mystery, mysticism, science fiction, religion and the politics of dictatorship are combined to intriguing effect in the intellectual Argentine thriller Moebius.
What makes this stylish film all the more remarkable is that it is the work of a group of advanced students at the Universidad del Cine in Buenos Aires, who created Moebius under the direction of one of their professors, Gustavo Mosquera.
The mystery surrounds the disappearance of an entire subway train and its passengers in the extensive underground system in Buenos Aires. The parallel to the disappearance of thousands of Argentines under the country's military dictatorship before the restoration of democracy in 1983 is inescapable.
Although the director general of the subway system reasonably seeks an answer to the train's disappearance, many of the bureaucrats assigned to the case by the police, the mayor's office and other arms of government would simply like to deny the entire affair. Little does it matter to them that the train can be heard but not seen, that it trips signals, disrupts traffic and poses the possibility of a fatal collision. The director general asks that the architect of the system help solve the problem, and the architect responds by assigning Daniel Prat (Guillermo Angelelli), a young topographer and mathematician, to the case.
- The New York Times, April 4, 1997
This film is presented in conjunction with the exhibition Mundos Alternos: Art and Science Fiction in the Americas, on view at UCR ARTSblock from September 16, 2017 through February 4, 2018. The film program is curated by Sherryl Vint, Director of the Speculative Fiction and Cultures of Science program at UCR, with support from Nikolay Maslov, Curator of Film and Media Projects at UCR ARTSblock.
Mundos Alternos: Art and Science Fiction in the Americas is part of Pacific Standard Time: LA/LA, a far-reaching and ambitious exploration of Latin American and Latino art in dialogue with Los Angeles, taking place from September 2017 through January 2018 at more than 70 cultural institutions across Southern California. Pacific Standard Time is an initiative of the Getty. The presenting sponsor is Bank of America.
Major support for Mundos Alternos is provided through grants from the Getty Foundation.
No reservation is required. Seating is first come, first serve. Please arrive 30 minutes prior to screening time to ensure a seat.