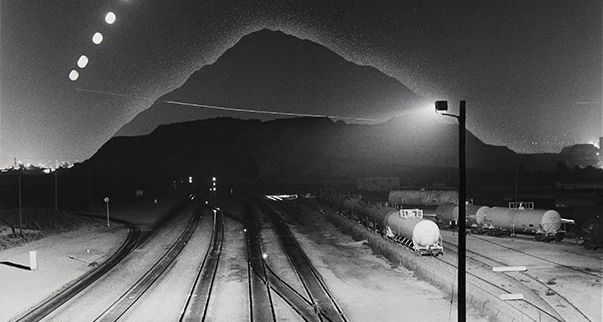 IE Experiments: Short Films from Inland Southern California
Directed by: Various
| | |
| --- | --- |
| Gallery Tour | Saturday, March 9, 2019, 2pm |
| Film Screening | Saturday, March 9, 2019, 3pm |
Free Admission!
IE Experiments: Short Films from Inland Southern California explores the ways in which filmmakers and artists have discovered and experienced Inland Southern California. IE Experiments is anchored by Stan Brakhage's 1976 experimental short Desert, a film centered on Riverside, CA subverting the filmmaker's expectation of finding a desert landscape but discovering a suburban landscape. The program explores subsequent filmic encounters artists have had with the region and the various expectations that were met or upended. The program will include works by Kate Alexandrite, Nathan Bockelman, Anna Wittenberg, Paul Kelley, Terry Chatkupt, Dicky Bahto, and Olivia Leiter. Several of the filmmakers will be present for a Q&A!
Desert screened on 16mm, all other works screened digitally.

This screening is in conjunction with the exhibition In the Sunshine of Neglect: Defining Photographs And Radical Experiments in Inland Southern California, 1950 To The Present at the California Museum of Photography. A tour of the exhibition will take place at 2pm.
Image: Lewis deSoto, Tahualtapa, Hill of the Ravens, 1983-1988. Collection of the California Museum of Photography at UCR ARTS.