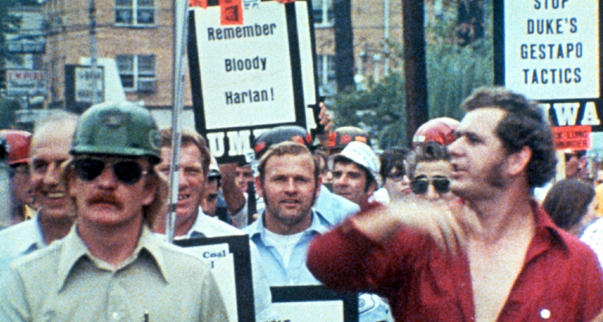 Harlan County USA
Directed by: Barbara Kopple
1976 | USA | 103 minutes
| | |
| --- | --- |
| Screening & Panel Discussion | Friday, October 26, 2018, 7pm |
| Matinee | Saturday, October 27, 2018, 3pm |
| Screening | Saturday, October 27, 2018, 7pm |
Free Admission!
Panel discussion will follow the Friday screening!
Barbara Kopple's Academy Award–winning Harlan County USA unflinchingly documents a grueling coal miners' strike in a small Kentucky town. With unprecedented access, Kopple and her crew captured the miners' sometimes violent struggles with strikebreakers, local police, and company thugs. Featuring a haunting soundtrack—with legendary country and bluegrass artists Hazel Dickens, Merle Travis, Sarah Gunning, and Florence Reece—the film is a heartbreaking record of the thirteen-month struggle between a community fighting to survive and a corporation dedicated to the bottom line.

"Drawing on decades of popular front rhetoric Barbara Kopple's bicentennial Oscar winner is one stirring union doc and who doesn't need one these days—or shouldn't I ask?" -  J. Hoberman, The Village Voice
No reservations are required. Seating is first come, first serve. 
This film is a part of Film for Thought, a series of screenings sponsored by the Advancing Intercultural Studies project and the UCR Center for Ideas and Society through a generous grant from the Andrew W. Mellon Foundation.