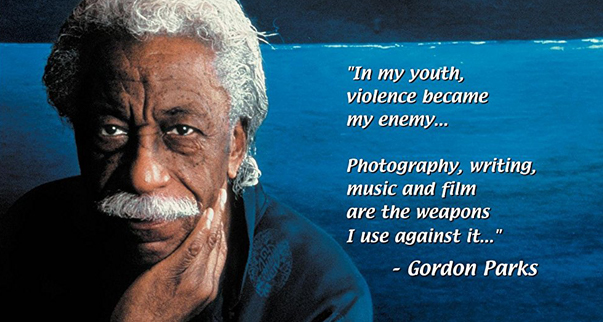 Half Past Autumn: The Life and Works of Gordon Parks
Directed by: Craig Laurence Rice
2000 | USA | 91 minutes
| | |
| --- | --- |
| Screening + Director Q&A | Saturday, May 19, 2018, 6pm |
Q&A with director Craig Rice to follow the screening!
A preeminent photographer, poet, novelist, composer and filmmaker, Gordon Parks was one of the most prolific and diverse artists in America in the late 20th century. His photography spanned from the social commentary of "American Gothic," to Paris high fashion for Vogue. Park's photos chronicled the Civil Rights Movement in Life for two decades and his portraits of celebrities like Ingrid Bergman brought him additional levels of fame and distinction. 
As a filmmaker, he was the first black man to direct a major Hollywood production with the poignant memoir of his youth, The Learning Tree, and he broke new ground with a hip and provocative black hero in Shaft, a movie which continues to be a pop culture classic.
Narrated by Alfre Woodard and vividly illustrated by Park's own masterful photographs, Half Past Autumn is a candid, revealing portrait of the artist and his journey through the watershed moments in America's social history.