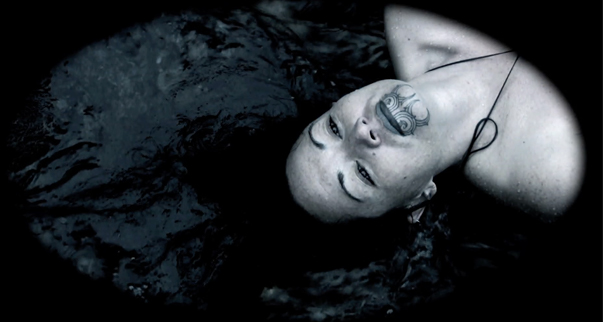 Grupo Sotz'il, Xul Kej and other videos
Directed by: Various
2008
| | |
| --- | --- |
| Screening and Discussion | Friday, April 27, 2018, 7pm |
Free Admission!
Video Screening: Grupo Sotz'il, Xul Kej and other videos
Followed by Dialogue on Process with UCR faculty and Grupo Sotz'il dance and music ensemble
Xul Kej (Deer Whistle) 2008: a production of Centro Cultural Sotz'il Jay (House of Bats); Victor Manuel Barillas, Director; featuring Tat Lisandro Guarcax. 
The idea for making this short film came to Victor Manual Barillas after seeing founder of Grupo Sotz'il, Tat Lisandro Guarcax (1978-2010), admiring a xul kej, a deer-shaped whistle made of baked clay, that he was entrusted to care for by his community. The story of Xul Kej takes us into the daily spirituality of a community and the ancestral memory present in people; both things that keep the Mayan world alive. 
We see a Kaqchikel Maya farmer, a person like any other, performing his daily tasks when he chances upon a musical instrument that transports him to another reality. Seen from another perspective, the xul kej's own volition and agency brought her into the hands of a person who would appreciate her existence, her history, and her spiritual vitality. The farmer listens to the xul kej's stories and enters into relationship with the Ruk'u'x, the heart or life force, of the xul kej. This rouses the histories stored within his body, reverberating through his bones, becoming xajoj q'ojom, music/dance. Xajoj q'ojom constitutes a dialogue between the Ruk'u'x of the musician/dancer and the Ruk'u'x of all things: the ground danced upon, the xul kej, the mountain, the sky, the ancestors, the essence of the day, and a great variety of entities—human and other—who inhabit the Earth. This exemplifies ruximik qak'u'x, the binding of the heart: the radical and inescapable relationality at the center of Grupo Sotz'il's xajoj q'ojom.
The short film is set in Yamanïk, a sacred hill in Sololá, Guatemala also known as María Tecún. It was filmed with an inexpensive camera and created with a simple editing program in order to demonstrate to local Kaqchikel youth the possibilities for creative expression even with limited resources.
TUMUTUMU 
The inter-disciplinary dance work TUMUTUMU is a collaboration between choreographer / video artist Louise Potiki Bryant and taonga pūoro (Māori traditional instruments) authority Richard Nunns.
This video documents a live performance of TUMUTUMU in Ōtepoti, Te Wai Pounamu / The South Island of Aotearoa / New Zealand.
TUMUTUMU has an original soundscape by Paddy Free with live accompaniment by Richard Nunns.
The Tumutumu is a type of taonga pūoro - a Māori percussion instrument which can be made from various types of stone including pounamu (greenstone), and also from other materials such as heartwood and bone. The tumutumu is mostly associated with the southern part of Aotearoa / New Zealand and were used in whare wānanga (houses of learning) to accompany intoned learnings.
The dance work TUMUTUMU takes inspiration from Louise's relationship with a particular tumutumu made from the wood of a pōhutukawa tree which was found on the West Coast of Aotearoa / New Zealand and the work integrates Louise's whakaahua dance and video art practices. 
This event is part of INDIGENOUS CHOREOGRAPHERS AT RIVERSIDE 2018 Gathering: April 27 – May 6, 2018
ICR 2018 Dance Artist Focus:  The highlighted guest artist this year is Grupo Sotz'il, who will be in residence at UCR from April 27 through May 7. Grupo Sotz'il is an eight-member ensemble of young Kaqchikel and Mam multidisciplinary artists dedicated to researching, creating and promoting Mayan knowledge and arts. Founded in El Tablón, Sololá, Guatemala in the year 2000 by the Tat Lisandro Guarcax (1978–2010), Grupo Sotz'il's art reflects the present and envisions the future, with firm roots in the wisdom and knowledge of their ancestors.
Grupo Sotz'il's participation in this year's ICR is an enactment of the group's desire to re-activate the long-standing connection between Indigenous peoples of the four directions, a multivalent circuit of exchange that predates the colonial imposition of borders. This commitment to transnational Indigenous solidarity has taken Grupo Sotz'il to almost every continent, where they have engaged in reciprocal sharing of knowledge and story. Selected by the New England Foundation for the Arts' prestigious National Dance Project Touring Award, this is Grupo Sotz'il's first visit to Cahuilla, Tongva, Serrano, Luiseño (Payómkawichum), Cupeño and Kumeyaay lands and their first time participating in the ICR. With the opportunity afforded by the ICR to dialogue–through words and movement–with artists and scholars from throughout Abya Yala/Turtle Island, Grupo Sotz'il looks forward to new connections toward future collaborations and forms of solidarity.
Grupo Sotz'il will present Uk'u'x Ulew, Heart of Earth. In this 60-minute performance of xajoj q'ojom (music/dance), fire, water, earth, and air interact in harmony and conflict. From their collusion and collision, K'aslemal, life, is born. The exuberance reaches beyond the borders of the performance space, but Tz'i'—the hound that embodies the word—signals danger. Grupo Sotz'il will present Uk'u'x Ulew, which borders between ritual and performance, at UCR's Community Garden on Saturday, May 5, at the end of Medicine Ways. They will also dance a 20 minute excerpt of this work on Thursday, May 3, as part of "Arts Walk", followed by performed responses from invited artists and a discussion in both English and Spanish.