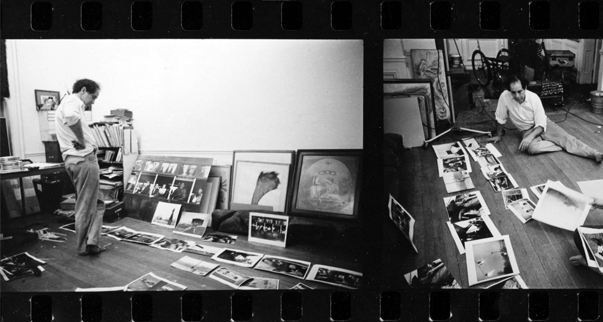 Don't Blink - Robert Frank
Directed by: Laura Israel
2015 | USA | 82 minutes
| | |
| --- | --- |
| Screening | Friday, February 9, 2018, 7pm |
| Matinee | Saturday, February 10, 2018, 3pm |
| Screening | Saturday, February 10, 2018, 7pm |
Even Robert Frank's friends will tell you that he is difficult. One of the most influential figures in the worlds of photography and independent filmmaking, Frank has never been easily approachable.  For over six decades he has held steadfast to a singular vision and earned widespread acclaim without forsaking his outsider status. 
At age 91, he continues producing photography books, making intimate videos and enjoying the company of his tight circle of friends. 

A Swiss expatriate who moves between NYC and Nova Scotia, Frank's photos, films and texts are imbued with a profoundly poetic, deeply introspective sensibility. He is a cult figure whose ties to the Beat Generation and Rolling Stones earned him both respect and a certain infamy. Most celebrated for his seminal photo book The Americans and the landmark independent film Pull My Daisy, Frank has spent his career ignoring aesthetic and cultural boundaries. 
Frank's multi-layered life and work are largely inseparable, and he has never been ready to let someone tell his story until Don't Blink directed by Laura Israel, his longtime film and video editor. Their years of collaboration have resulted in a rare working relationship built on intuition and mutual trust.  

Don't Blink follows Frank from his early family life in Switzerland to his reluctance to embrace celebrity status in New York to his eventual quest for solitude in a remote corner of Nova Scotia, Canada. 

 A series of personal tragedies pushed Frank to painfully explore complex feelings about family and friends, memory and loss, acceptance of change, and loneliness. 
 Don't Blink offers audiences revelatory insight into the intricacies of his photos, films and personal history while artfully revealing Robert Frank's complex life story.
"A portrait of a quintessential New York artist... compact, fast-moving... an impressive achievement... You leave with a vivid sense of the man's living presence." - The New York Times 
"Recontextualizes those iconic photographs in the greater narrative of a large, risky, and purposefully imperfect career, and for that it is rich viewing." – Rebecca Bengal, Vogue 
"Intimate, impressionistic, and irascibly entertaining." – Aaron HIllis, Village Voice 
"A provocative portrait of its equally provocative subject. Vividly conveys his passionate artistic spirit, defiant iconoclasm and lifelong aversion to compromise." – Frank Scheck, Hollywood Reporter 
Photo of Robert Frank by Sid Kaplan from contact sheet, copyright Sid Kaplan