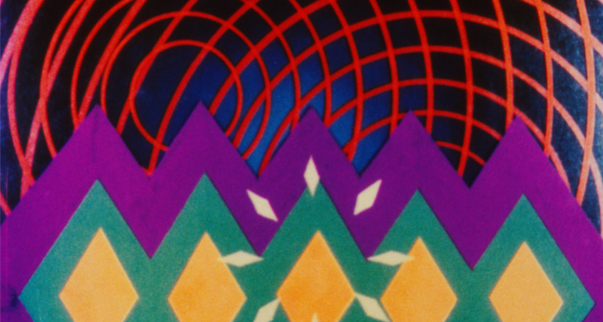 Audiovisual Music V: Visual Music Films from the Center for Visual Music Archive
Curated by Cindy Keefer
Directed by: Oskar Fischinger, Mary Ellen Bute, Jordan Belson, John Stehura, Jules Engel, Barry Spinello and others
| | |
| --- | --- |
| Screening | Friday, May 18, 2018, 7pm |
Audiovisual Music explores the convergence of sound and image through different forms and technologies of audiovisual and multimedia composition. This fifth event presents visual music films from the Center for Visual Music archive and is curated by Cindy Keefer, curator/archivist. From handmade sound to hand-drawn animation to psychedelia, this program of revelatory moments from the history of visual music explores legendary and rare treasures found in the CVM archive.    
Films are screened digitally. 
Center for Visual Music (CVM) is a nonprofit archive devoted to visual music, experimental animation and abstract media. CVM's archives house the world's largest collection of resources on Visual Music. The collections include film/video/digital media and related papers, books, monographs, artwork, animation process materials, documentation, photography, equipment and artifacts. CVM owns the films, papers, and many animation drawings by  Oskar Fischinger, plus the original research collection of animation historian William Moritz. Film preservation is a core part of CVM's mission. CVM's films, programs, and presentations are regularly featured at museum exhibitions, cinematheques, universities, symposia and archives worldwide, most recently at the Whitney Museum, Guggenheim Museum, Tate Modern, Centre Pompidou, Hirshhorn Museum, Berkeley Art Museum, LACMA, British Film Institute, Harvard Film Archive, Princeton University, Oxford University and Trinity College, among others worldwide. CVM recently co-published a new Oskar Fischinger monograph, Oskar Fischinger (1900-1967): Experiments in Cinematic Abstraction. www.centerforvisualmusic.org
Cindy Keefer is an archivist and curator, and director of Center for Visual Music in Los Angeles. She curates and presents film and media programs and lectures at museums, festivals, universities and archives worldwide.She has published on Oskar Fischinger, Jordan Belson, Visual Music and experimental animation, and edited a new Oskar Fischinger book, Oskar Fischinger: Experiments in Cinematic Abstraction. As Adjunct Faculty, Keefer taught the History of Experimental Animation at Cal Arts, and has been a Guest Lecturer at NYU, ZKM, University of Oxford, Goldsmiths, Cal Arts, UCSB, UCLA, USC and numerous others. She restored and curated Oskar Fischinger: Raumlichtkunst, a 3 screen HD installation which has been exhibited at Tate Modern, the Whitney Museum and other museums in Paris, Australia and New Zealand. Keefer has preserved dozens of short abstract films by artists including Fischinger, Belson, Jules Engel, John and James Whitney, Charles Dockum, Harry Smith, Mary Ellen Bute, Harry Smith, Jud Yalkut, John Cage and others, and produced Fischinger, Belson and Visual Music compilation DVD releases. She has a degree in Film from New York University. She is a member of the Society for Animation Studies, and the Association of Moving Image Archivists (former Chair of its Access Committee).   

Audiovisual Music, an ongoing screening and concert series, is organized by Dr. Paulo C. Chagas and Nikolay Maslov.

Still from Allegretto (1936-43) by Oskar Fischinger. (c) Center Visual Music