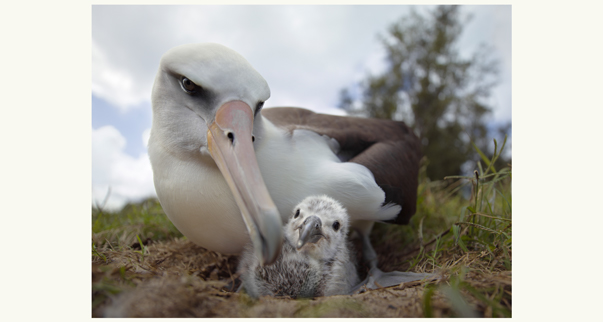 Albatross
Directed by: Chris Jordan
2017 | USA | 97 minutes
| | |
| --- | --- |
| Screening | Thursday, August 1, 2019, 7pm |
| Screening | Thursday, September 5, 2019, 7pm |
| Screening | Thursday, October 3, 2019, 7pm |
| Screening | Thursday, November 7, 2019, 7pm |
| Screening | Thursday, December 5, 2019, 7pm |
| Screening | Thursday, January 2, 2020, 7pm |
Free Admission!
Albatross is a powerful visual journey into the heart of a gut-wrenching environmental tragedy. On one of the remotest islands on Earth, tens of thousands of albatross chicks lie dead on the ground, their bodies filled with plastic. Returning to the island over several years, Chris and his filming team witnessed cycles of birth, life, and death of these magnificent creatures as a multi-layered metaphor for our times. Albatross walks us through the fire of horror and grief, facing the immensity of this tragedy — and our own complicity — head on. And in this process, we find an unexpected route to a deeply felt experience of beauty and love for the miracle of life on Earth. Stepping outside the stylistic templates of traditional environmental or documentary films, Albatross takes viewers on a lyrical guided tour into the depths of their own spirits, delivering a profound message of reverence and renewal that is already reaching an audience of millions of people around the world.

Albatross is presented as part of the exhibition Chris Jordan: Intolerable Beauty, on view at the Culver Center of the Arts July 6, 2019 through January 5, 2020.
Many contemporary artists are integrating environmental themes into their work. Few, however, can rival the centrality of the ecological themes in the work of photographer and artist Chris Jordan. Chris Jordan: Intolerable Beauty is a stunning exhibition and visual journey into exploring the consequences of mass consumption and global plastics pollution in the ocean and on earth. 
Intolerable Beauty draws from five bodies of photographic and video works spanning 2003 to current works-in-progress: Intolerable Beauty: Portraits of American Mass Consumption (2003 - 2005); Midway: Message from the Gyre (2009 - Current); Camel Gastrolith (2016); Albatross (2017); and work in progress (2019).