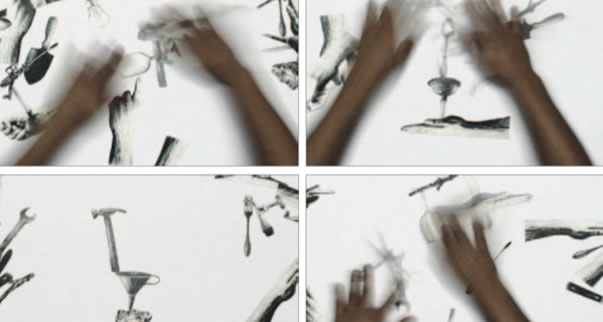 V Inter-American Biennial of Video Art
Directed by:
Riverside and La Sierra U
| | |
| --- | --- |
| Free Film Screening | Thursday, December 1, 2011, 7pm - 9pm |
This Screening is FREE and open to the public. Ticket reservations are required.
Join us for a screening of 20 short videos selected from the Fifth Edition of the Inter-American Biennial of Video Art during December's First Thursday Art Walk at Culver Center of the Arts. The Inter-American Biennial of Video Art opened at the IDB Cultural Center in Washington DC earlier this year, and traveled to venues throughout Latin America. This year's Biennial not only celebrated the first decade since its founding but also features new work by video artists from 13 countries including Argentina, Brazil, Chile, Colombia, Dominican Republic, Ecuador, Guatemala, Mexico, Peru, Puerto Rico, and Venezuela. The presentation at the UCR Culver Center of the Arts is only one of two U.S. venues and the only one in the Southwest/Pacific Coast region.
"The Inter-American Biennial of Video Art is probably the only video biennial that exists at the hemispheric level and operates under an open call instead of through preselected entries under a rigid curatorial framework. This is an important distinction that has become part of the Biennial's character. Aside from the cash awards and honorable mentions awarded by an international jury to encourage those artists whose work appears most innovative and progressive, the Biennial's openness and inclusivity gives opportunities to many video artists in the region to be appreciated by a wide range of publics." - Felix Angel, IDB Cultural Center Director and Biennial Founder
Seating is limited to 72 for the screening. Reserve Tickets to ensure your seat!
The program will be followed by a discussion by Tyler Stallings, artistic director, Culver Center of the Arts & director, Sweeney Art Gallery and Beatriz Krumbein, professor in Art at La Sierra University.