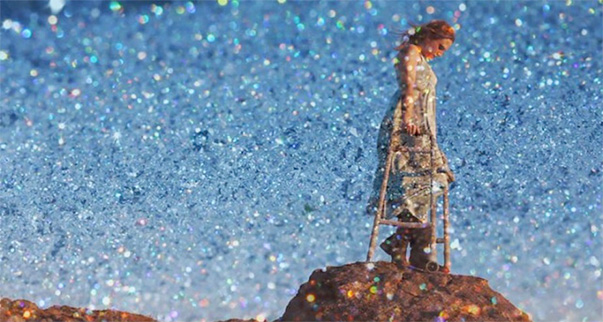 Trans Cinema Short Films
Queer Lab Presents
Directed by: Zackary Drucker; Rhys Ernst
| | |
| --- | --- |
| Screening | Thursday, January 31, 2013, 7:30pm - 9:30pm |
FREE Admission The artists will be present for screening and available for Q&A afterwards.

Secret Men's Club Moment #133
Rhys Ernst (2009). 1min.
A simple office exchange becomes a metaphor for exclusionary male culture. There's something missing in Tristan and Zooey's relationship. Zooey has spent weeks planning a road trip to a mysterious roadside attraction known as "The Thing" in the hopes that she and Tristan will reconnect. Both Tristan, a transgender man, and his fluffy grey cat Steven struggle to find places to comfortably pee, while Zooey learns the open road isn't everything she hoped it would be. Will they find what they're looking for at "The Thing"?

At Least You Know You Exist
Zackary Drucker (2011). 16 min.
Made in collaboration with New York performer and drag queen Flawless Sabrina, the film "At Least You Know You Exist" explores the interaction between two artists of different ages. Set in Flawless Sabrina's ornate Manhattan apartment, where she has lived for more than four decades, the work depicts the two artists sharing the roles of filmmaker and subject, creating an intimacy that speaks specifically to their relationship as fellow transgender artists, and also more broadly to the queer community. According to Drucker, there are few older transgender individuals to look towards as role models. Her work with Flawless Sabrina investigates this legacy of queerness, which remains largely overlooked. "There is proof that we exist in a luminous dark corner of history as men know it," Drucker narrates, "a vortex and a realm where our trace is barely evident."

Lost Lake
Zackary Drucker (2012). 8 min.
Filmed at the peak of autumn foliage in a rural Midwestern US locale, this non-narrative short film posits beauty and fear as inextricable from the psyche of the American landscape. Contemplative moments and stunning vistas are jarringly punctuated with the vocabularies of witch-hunts, hate crimes and psychological violence.

She Gone Rogue
Zackary Drucker with Rhys Ernst (2012). 22 mins.
"Darling" (played by Zackary Drucker) attempts to visit her "Auntie Holly" but instead falls down a rabbit hole, encountering trans-feminine archetypes (legendary performers Holly Woodlawn, Vaginal Davis, and Flawless Sabrina) who are in turn confounding, nebulous, complicated and contradictory. Engaging a world of dream-like magical realism, SHE GONE ROGUE references Maya Deren's Meshes of the Afternoon, utilizing a space where singular selves multiply and expand, offering windows into parallel dimensions, with time and space collapsing into a whirlpool of divergent possibilities. When Drucker finally finds the white rabbit, the process of identity construction completes a full circle, offering more questions than answers.