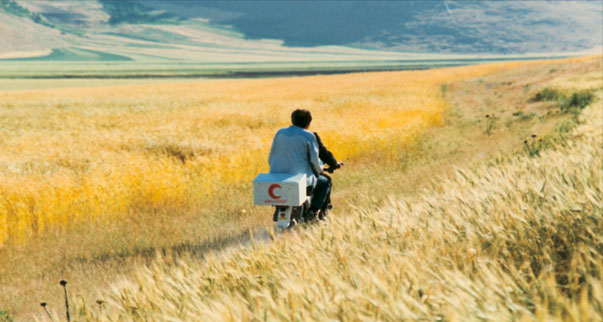 The Wind Will Carry Us
Directed by: Abbas Kiarostami
1999 | Iran/France | 118 min.
| | |
| --- | --- |
| Screening | Friday, August 8, 2014, 7pm |
| Screening | Saturday, August 9, 2014, 7pm |
| Matinee | Saturday, August 9, 2014, 3pm |
"The mastery of Abbas Kiarostami is most evident, perhaps, in his restraint, in the depth he suggests through omission. Audiences are intrigued by the film's mysteries, teased into fascination. But it's precisely the absence of answers that makes the questions endure. The Wind Will Carry Us bristles with secrecy, and much of its mystique is derived from the sensation that important information is being held just out of view. This is a deeply, patiently observational film, and the details Kiarostami emphasizes—a dung beetle struggling to haul away its bounty, an apple rolling haphazardly across an uneven floor, a bone floating down a stream—seem somehow profound in their banality, a mystery of ineffable beauty." Calum Marsh, The Village Voice.

Best Film and FIPRESCI Prize, Venice Film Festival, 1999