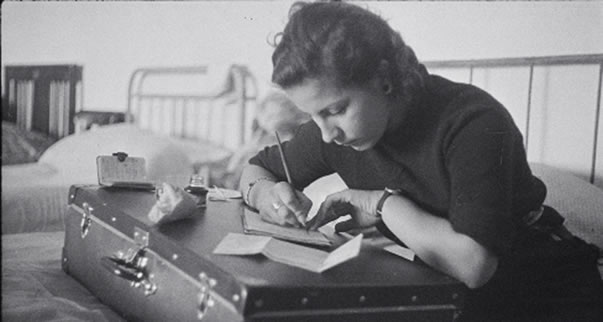 The Mexican Suitcase
Directed by: Trisha Ziff
| | |
| --- | --- |
| Screening | Tuesday, September 6, 2011, 7:20pm - 9:00pm |
The Mexican Suitcase directed by Trisha Ziff, which had its private USA premiere at Culver Center last Spring, will be shown at the DocuWeeks 2011 festival at the Laemmle Sunset 5 from September 2 through September 8. UCR ARTSblock is sponsoring the screening on Tuesday, September 6 at 7:30 pm. Trisha Ziff will be present to discuss the film.
The Mexican Suitcase tells the story of 4,500 lost negatives taken by renowned photographers, Robert Capa, Gerda Taro and David 'Chim' Seymour during the Spanish Civil War and recovered 70 years later in a closet in Mexico City, a recovery that parallels the reinvestigation by Spaniards, after decades of repression and silence, of their own past.
Photo caption: Refugee writing home, Barcelona, November 1936 - David "Chim" Seymour.
Courtesy Magnum Photos, International Center of Photography and the David Seymour Estate
Film Screening at the Laemmle Sunset 5 in Los Angeles