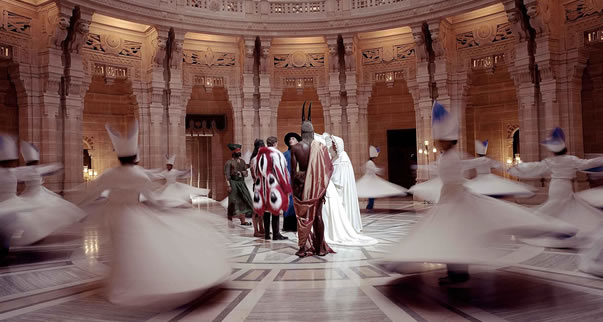 The Fall
Directed by: Tarsem Singh
2006 | USA/India | 117 minutes | Rated R
| | |
| --- | --- |
| Screening | Saturday, December 31, 2011, 8pm - 10pm |
In a hospital on the outskirts of 1920s Los Angeles, an injured stuntman begins to tell a fellow patient, a little girl with a broken arm, a fantastical story about 5 mythical heroes. Thanks to his fractured state of mind and her vivid imagination, the line between fiction and reality starts to blur as the tale advances.
"Surely it is one of the wildest indulgences a director has ever granted himself. Tarsem, for two decades a leading director of music videos and TV commercials, spent millions of his own money to finance The Fall, filmed it for four years in 28 countries and has made a movie that you might want to see for no other reason than because it exists. There will never be another like it." - Roger Ebert, Chicago Sun Times.
Winner, Crystal Bear, Berlin International Film Festival 2007
Celebrate New Year's Eve at Culver Center of the Arts Join us on Saturday, December 31st for our Second Annual Culver Screening Room New Year's Eve Gala. Welcome the New Year at Culver with a magical film, ethnic and eclectic food, and live music for entertainment and dancing. Culver New Year's Eve features a special screening of Tarsem Singh's visually stunning film The Fall that won the Crystal Bear at the 2007 Berlin International Film Festival, Middle Eastern fare from Phood on Main that hints at the The Fall's exotic filming locations, and a fabulous band. The Fall is the perfect New Year's Eve film: a moving and seamless blending of mundane life with a visually sumptuous fantasy world of exotic bandits, evil tyrants, dream-like palaces and breathtaking landscapes. Learn more about this year New Year's Eve packages.