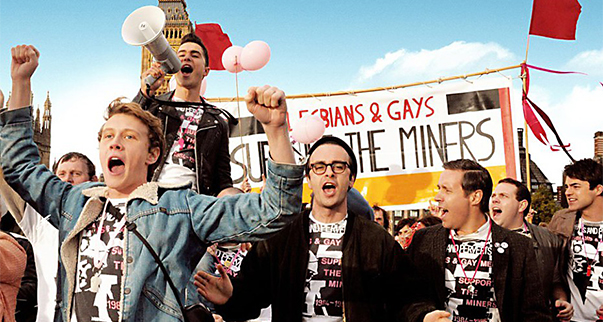 Pride
Directed by: Matthew Warchus
2014 | UK/France | 2hr
| | |
| --- | --- |
| Screening | Friday, August 28, 2015, 7pm |
| Matinee | Saturday, August 29, 2015, 3pm |
| Screening | Saturday, August 29, 2015, 7pm |
"This portrayal of the unlikely 1980s alliance between London
gay-rights activists and striking Welsh miners is, quite simply,
one of the best movies of the year. It imbues its version
of events with real verve. The story is told mostly from the
perspective of members of "Lesbians and Gays Support the
Miners." Pride does not pay mere lip service to the striking
miners. The film viscerally conveys the desperation of their
struggle to survive in the face of the Thatcher administration
strategy to "starve them back to work." These, too, are
proud people, steeped in tradition—including homophobia
among some. It's a testament to the film's empathy that so
many of the portraits of the small mining town's people feel
fully realized." Michael Ordoña, SFGate.
Nominee, Best Comedy Motion Picture, Golden Globes 2015