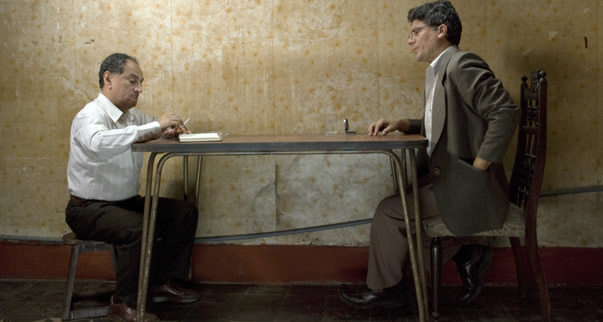 Octubre
Directed by: Daniel Vega Vidal & Diego Vega Vidal
Peru | 83 minutes | Unrated
| | |
| --- | --- |
| Screening | Friday, March 2, 2012, 7pm - 9pm |
| Screening | Saturday, March 3, 2012, 7pm - 9pm |
October is the purple month in Lima, when the grey city's somber tones give way to processions celebrating the Lord of Miracles. The film's restrained painterly cinematography tracks the throngs of devotees who light candles and follow the processions, each in search of their own miracle. And the camera picks out Clemente, a small time loan shark with a penchant for hookers, solitude, money lending and nothing else. Returning home one day, Clemente finds a newborn baby left in his bed. Clemente hires his neighbor, Sofia, an October worshipper, to help care for the child. With Sofia and the baby sharing his home, Clemente discovers emotional attachments he never thought he had.
"A dolorous debut from the Peruvian brothers Daniel and Diego Vega and an oblique reminder that one person's fantasy can be another's nightmare -- at least at first glance." - Jeannette Catsoulis NPR
Un Certain Regard, Cannes, 2010.
Peru's submission to the Foreign Language Film category, Academy Awards, 2012