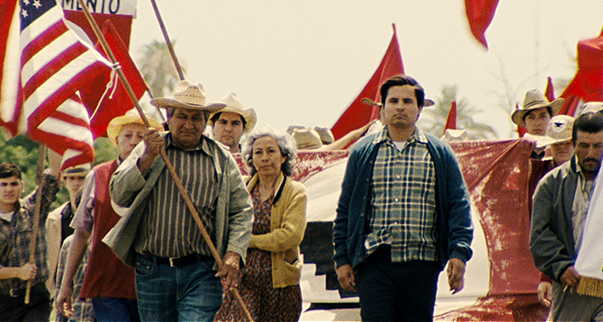 Cesar Chavez
Directed by: Diego Luna
2014 | USA | 1hr 41min
| | |
| --- | --- |
| Screening | Saturday, March 28, 2015, 5pm |
| Screening | Saturday, March 28, 2015, 7pm |
Free Special Cesar Chavez Birthday Celebration
Free Admission: Reserve Seats Online
Join Riverside City Councilman Andy Melendrez for a Cesar Chavez Birthday Celebration on Saturday, March 28th, 2015 from 12:00 PM - 5:00 PM and screenings of four Chicano Experience films. This Celebration is held in support of Riverside's youth enrichment program, The Riverside School of the Arts, housed at the Cesar Chavez Community Center, which offers performing arts programs for many of the city's under-served youth. 

Struggle in the Fields and Yo Soy Joaquín will be shown on Saturday at the 3 pm Matinee. Struggle in the Fields chronicles the Mexican-American crusade for equal rights in the 60s and 70s and documents Chavez's unionization efforts for the farm workers. I Am Joaquín, a 1969 short film by Luis Valdez, a project of his El Teatro Campesino, is based on the poem by Rodolfo Gonzáles, a key text of the Chicano movement. 
On Saturday at 5 pm and 7 pm, Cesar Chavez, the new 2014 film by Diego Luna, emphasizes Chavez's commitment to bringing dignity and justice to others as he embraced non-violence.

Cesar Chavez: Audience Award, SXSW Film Festival 2014